Skip to content
Skip to navigation
Ways to Wear
3 Ways to Wear the Mom Jean
by Emma Menteath, Editorial Lead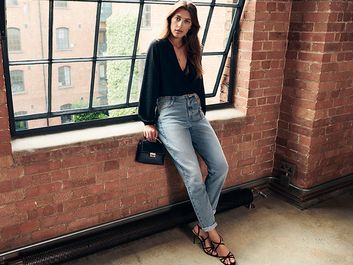 We are having a major 90s revival at the moment and the mom jean is, clearly, one of the must-have pieces leading the way: think Rachel from Friends or the cast of the iconic Beverly Hills, 90210. You will know them for their high waist, their tapered leg and, despite what most people think, their ultra-flattering fit for all body types. If they seem too casual for certain moments of the day, we have news for you. They really aren't. So here is how you can wear mom jeans from day to night.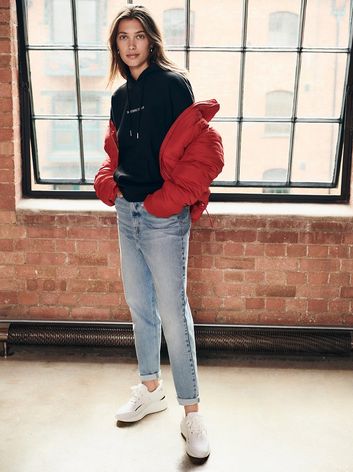 1. Morning Errand Run
You've finished at the gym, had a quick shower and need to run a few errands around town to get your day started. It's getting chilly in the mornings so team your mom jeans with an oversized hoodie and a puffer (bonus points for statement colour layers). The result? A cosy look that will make your busy morning a breeze.
SHOP MOM JEANS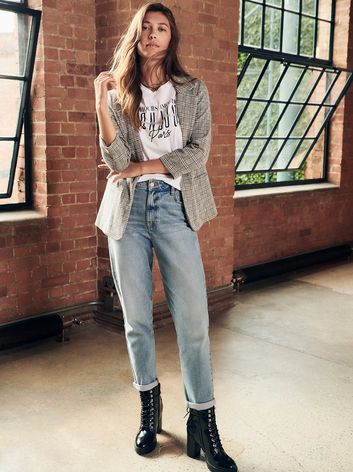 2. A Casual Lunch Date
You've got things done and you've got plans for your lunch hour. But what to wear? For that effortless girl-next-door vibe, pair your mom jeans with a simple slogan tee and the must-have boot of the season - the chunky lace up. Add a check blazer and a slouchy tote bag for an extra style update and you're good to go.
SHOP MOM JEANS
3. Girls' Night Out
Going out with the girls? Make your mom jeans work for you all day long by teaming them with the bodysuit of your choice. This jean's looser fit makes it easy to style with a bodysuit – take your pick from a plunging neckline or strappy styles. Complete the look with a mini bag and delicate strappy heels to add a little bit of attitude.
SHOP MOM JEANS