Skip to content
Skip to navigation
New Arrivals
13 Feel-Good Summer Slogans
by Adam Fletcher, Copywriter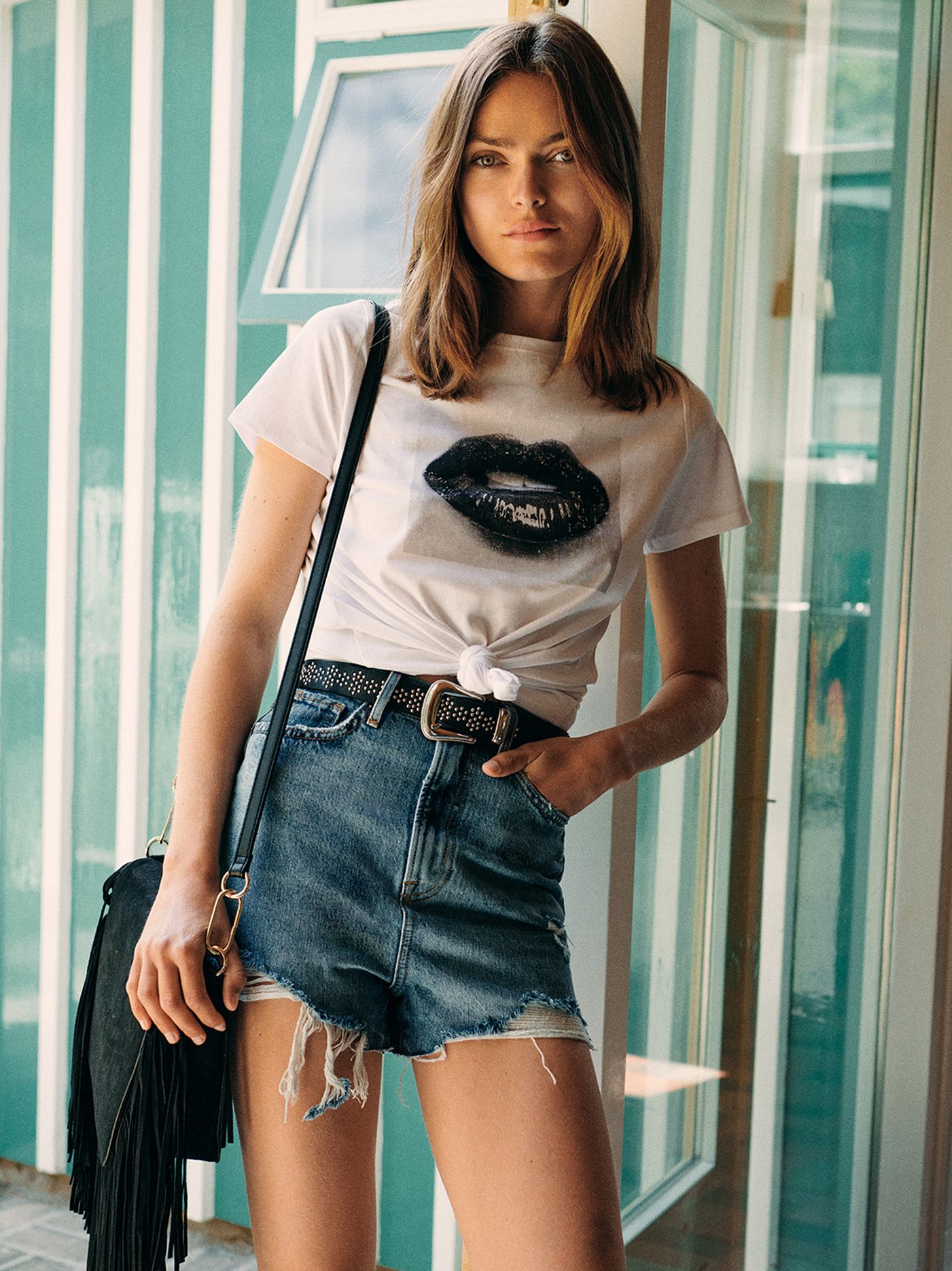 If last season's slogan tees had you feeling a little lost for words (pun intended 😉), you won't wanna miss this one, because mood-boosting motifs are having another moment in the spotlight. Yup, it's true – printed phrases have returned to our waist-up wardrobes this summer, and the result is even more positive than before. 

Let us guess... Now all you want to know is 'what are the best slogan T-shirts to buy RN?' We've got you. In this feature, we'll be introducing you to our fashion team's top tee picks. In addition to being made from sustainable and organic fabrics, these styles feature must-have mantras (like the RuPaul-approved quote 'Love Yourself'), uplifting logos, cute illustrations, and sweet sherbet shades, too. 

Here are 12 of the most popular t-shirt slogans to nab right now.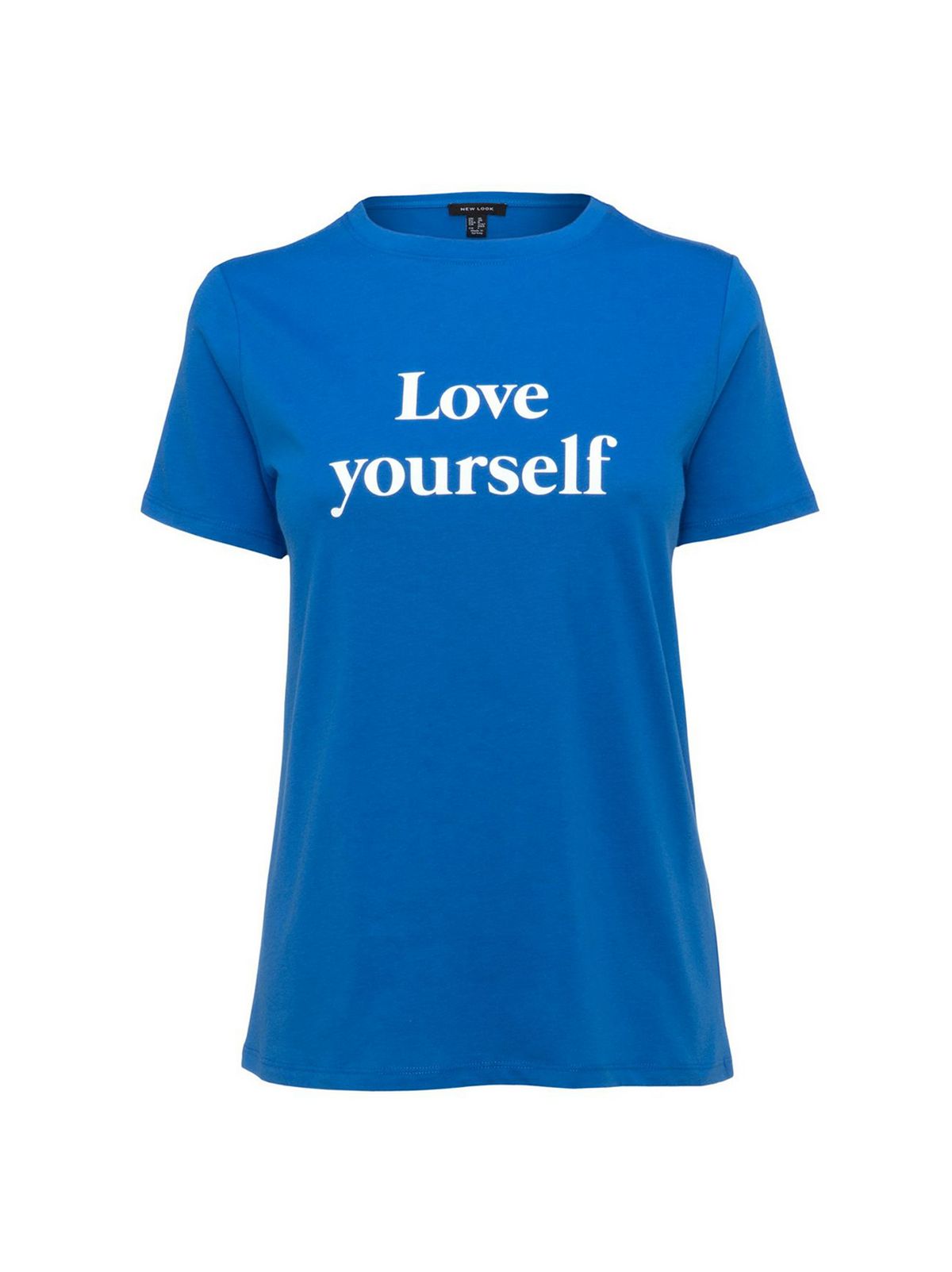 1. Blue Love Yourself Slogan T-Shirt - £8.99
Love yourself. These two words are legendary for a reason: they have the power to spark a smile (and they remind us of Drag Race💕) every time we read them. Plus, the best part is, they're now being printed on organic cotton. Win.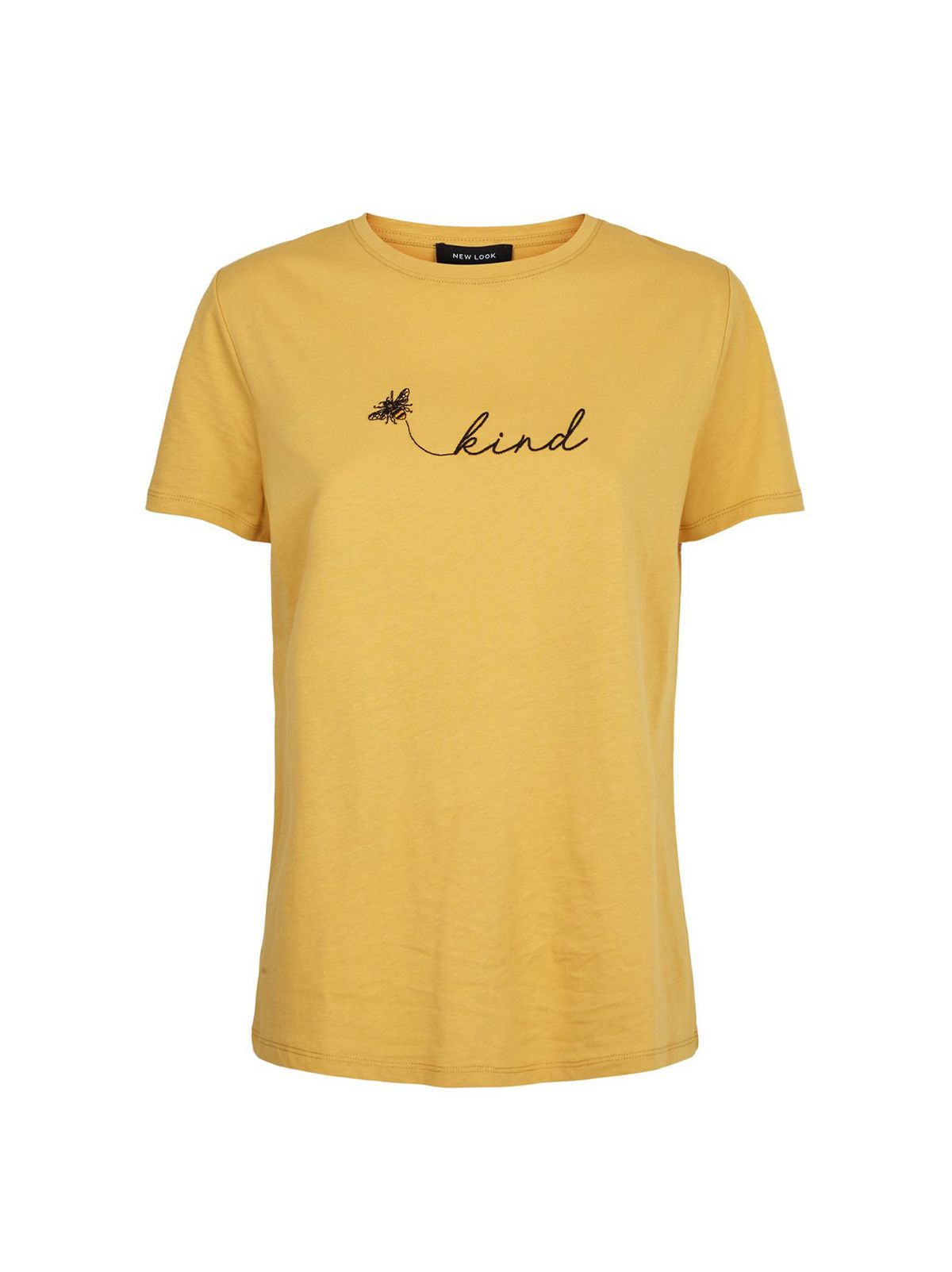 2. Mustard Bee Kind Slogan T-Shirt - £8.99
What's sweeter than honey, and sure to generate a lot of buzz when you wear it? This tee, ofc. It features a yummy yellow shade, a super-cute slogan, and it's made using organic cotton.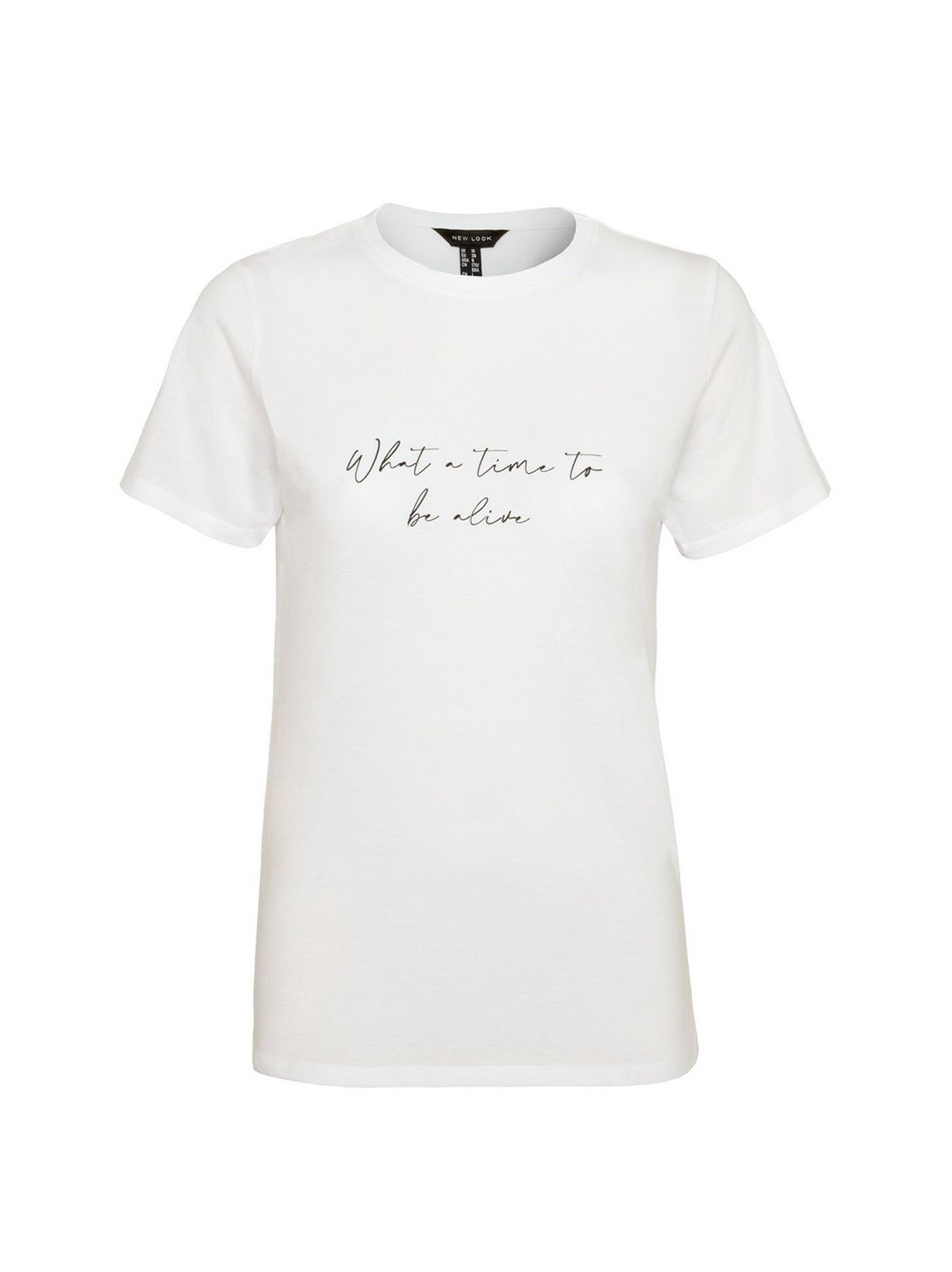 3. White What A Time To Be Alive Slogan T-Shirt - £8.99
A classic white tee is 10 times of out 10 the answer to our what-to-wear dilemmas. However, this tee goes the extra mile as it ticks the responsible box, too. Is this the best slogan tee we know? Probably.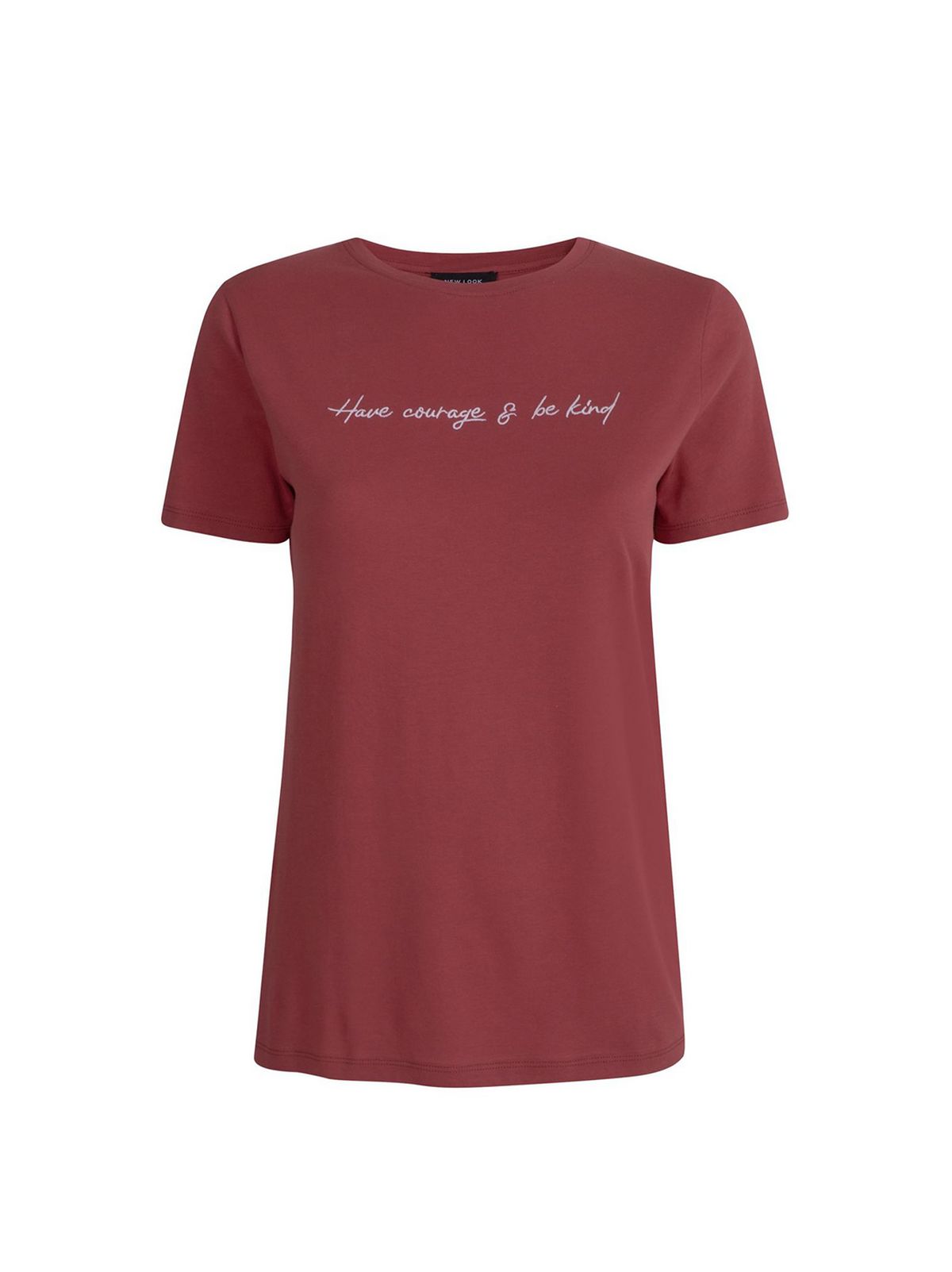 4. Mid Pink Have Courage Be Kind Slogan T-Shirt - £8.99
Lockdown has been lifted, so RN is the perfect time to debut a feel-good slogan, and nothing says 'I'm positive' or 'I'm making small steps to shop more sustainably' like this tee. And, thanks to its mid-pink shade, it will go well with...everything.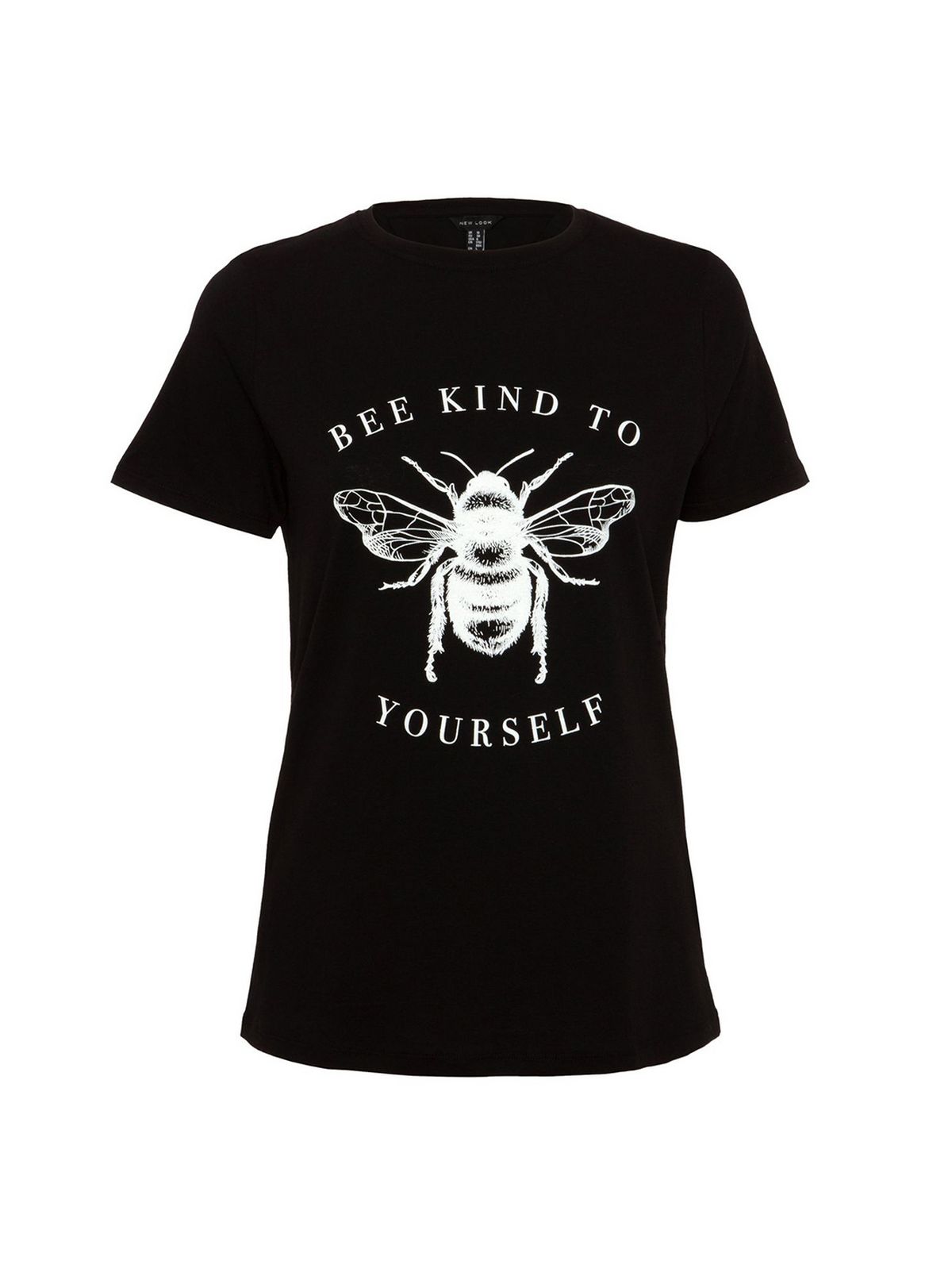 5. Black Bee Kind To Yourself Slogan T-Shirt - £8.99
Introducing the queen bee (lol) of all t-shirt phrases: bee kind to yourself. We're all about this tee's self-care sentiment, the fact that it's made using organic cotton and its jolly pun. Remember: it don't mean a thing if it ain't got that sting. 🐝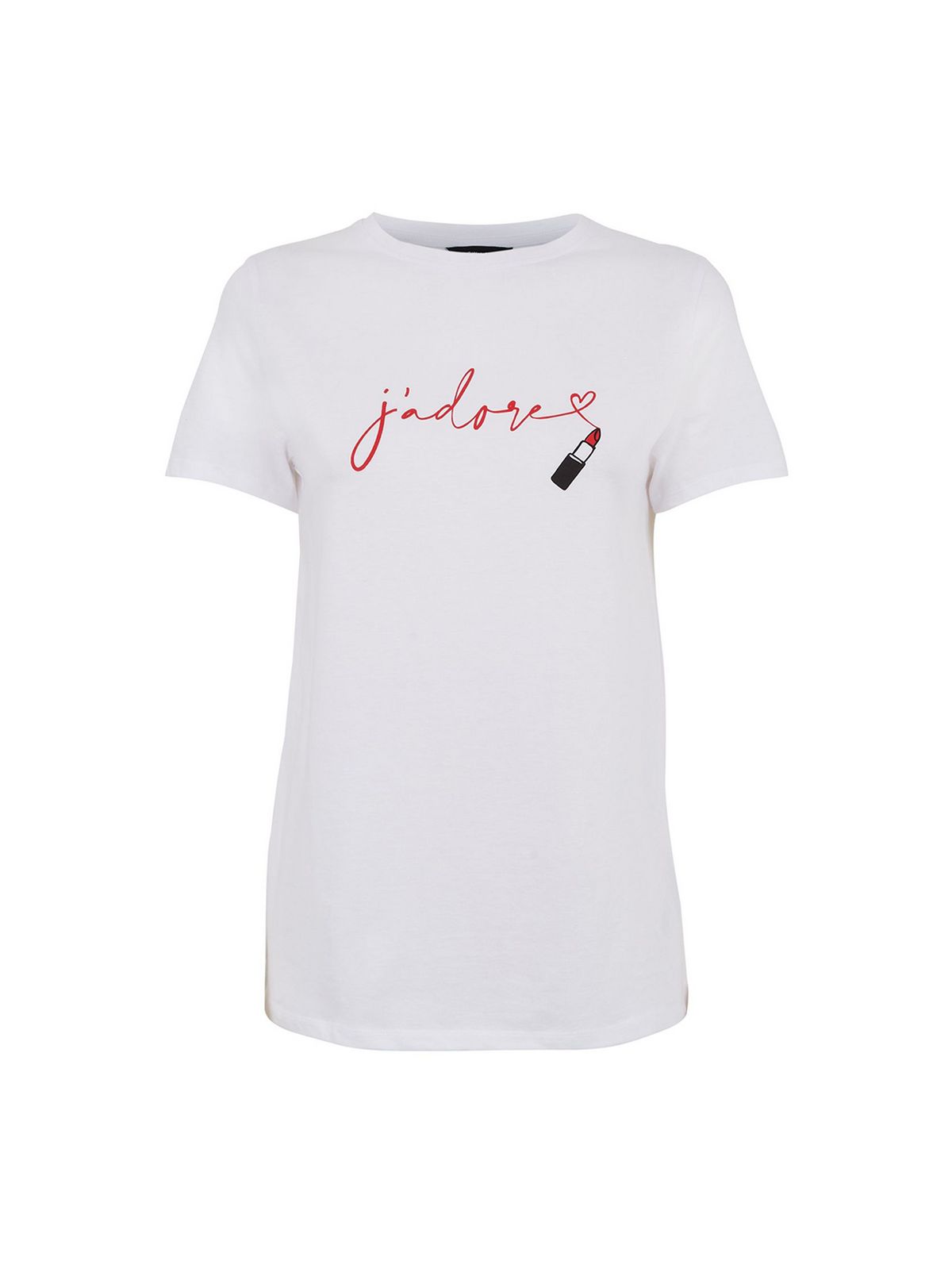 6. White J'Adore Lipstick Slogan T-Shirt - £8.99
Putting 'J'adore' on your organic tee is a wise choice this summer - and so is adding a tiny lipstick illustration, fact. To give it a dressed-up feel, why not add heels, jeans and layers of gold pendants?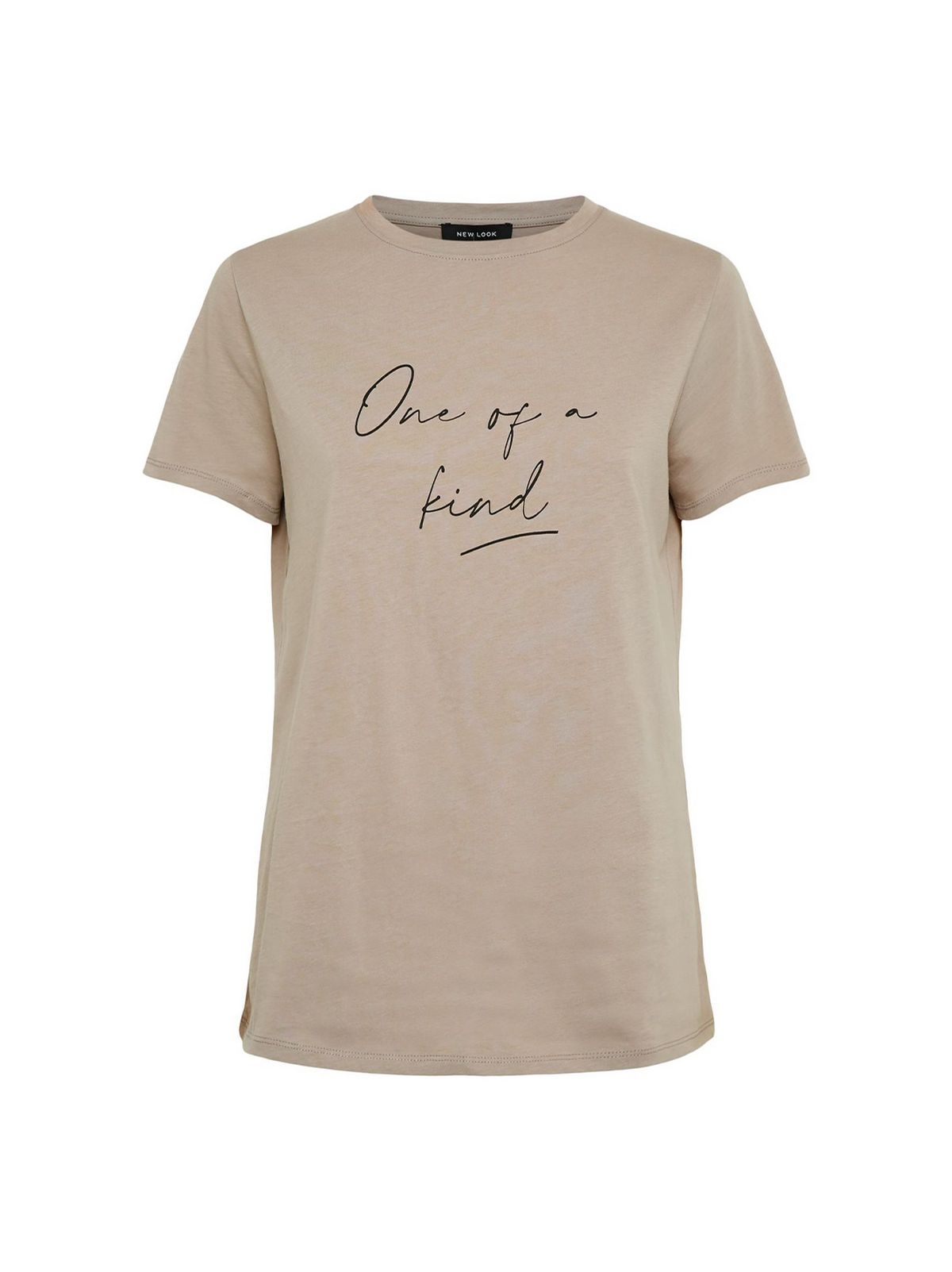 7. Light Brown One Of A Kind Slogan T-Shirt - £8.99
A beige top with a difference, this 'One Of A Kind' slogan t-shirt adds a positive and sustainable vibe to your summer looks. We'll be teaming it with similar tones to tap into the neutral trend.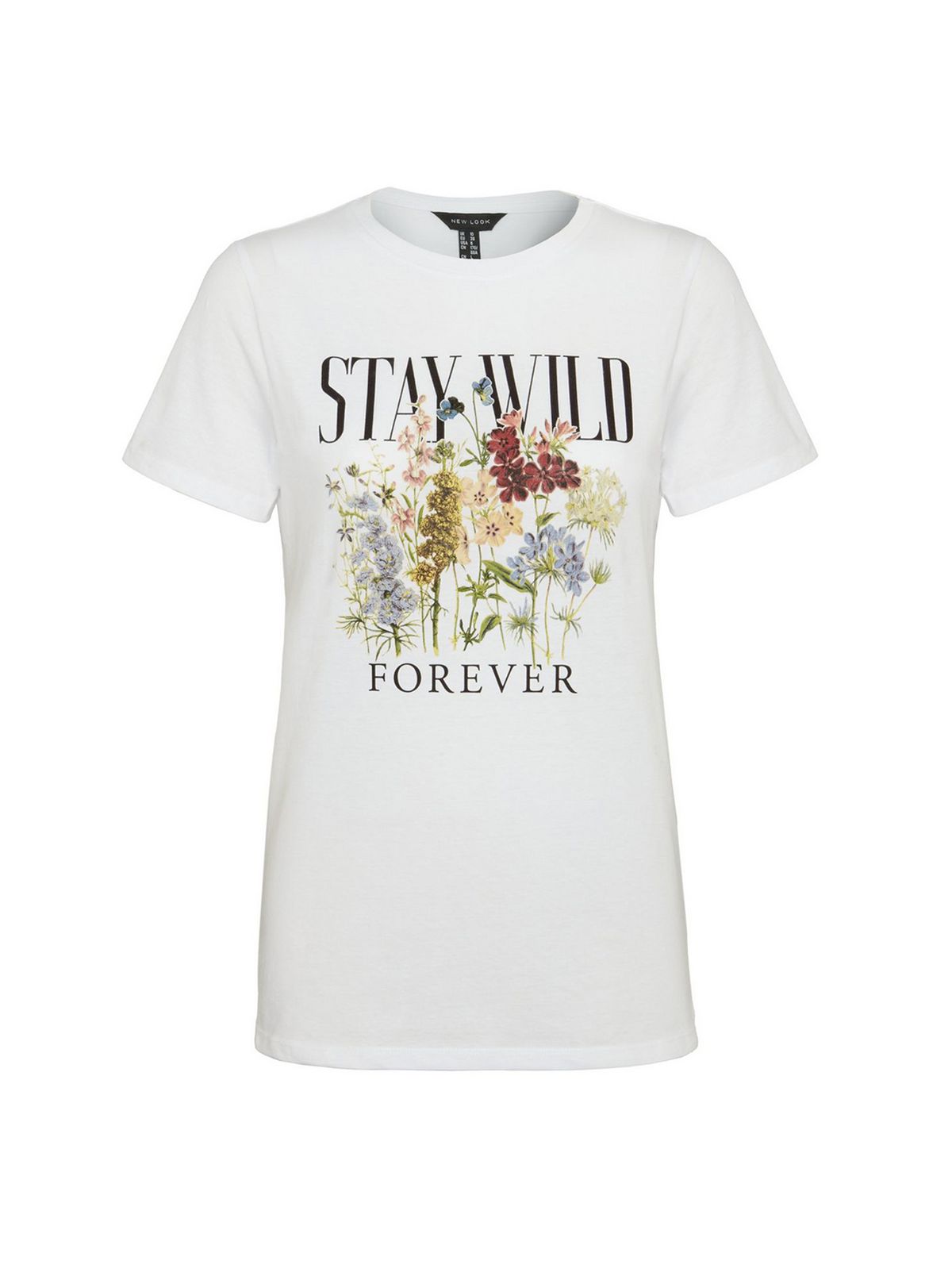 8. White Floral Stay Wild Slogan T-Shirt - £8.99
Summer loves big blooms (and it cannot lie), so this 'Stay Wild Forever' t-shirt is the update your wardrobe needs atm. Plus, it's made with 100% organic cotton, so it's literally the BEST place to start for your warm-weather look.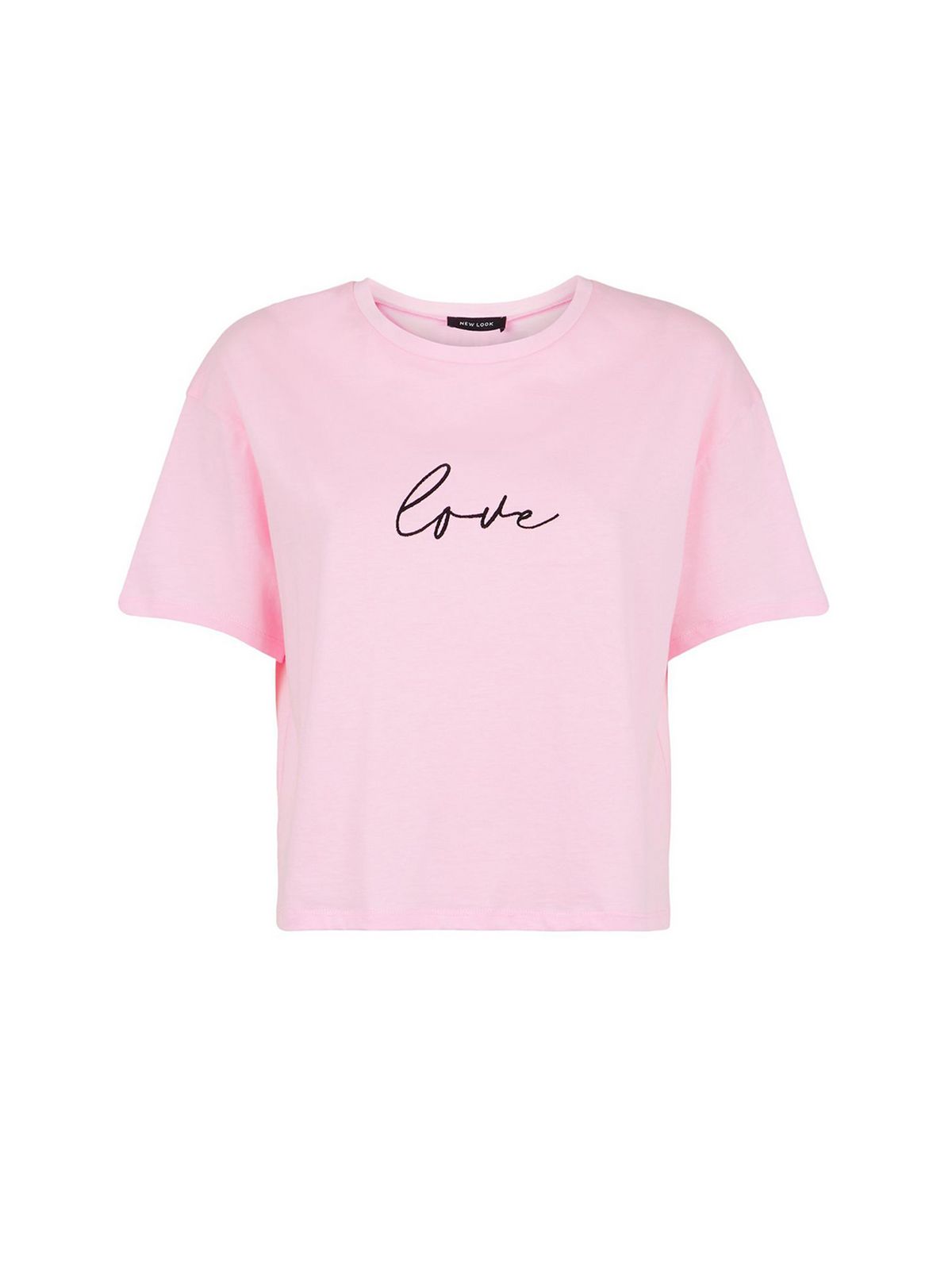 9. Bright Pink Embroidered Slogan Boxy T-Shirt - £8.99
Not just reserved for sweets, sherbet shades are this season's most of-the-moment updates. Channel the trend by picking a sweet pink t-shirt like this (embroidered with 'Love', ofc) and mix it with more pink tones. 
10. Light Green Good Things Slogan T-Shirt - £8.99
Dress for the news you want to see, with this 'Good Things Are Coming' slogan t-shirt. Bonus: you're gonna look on-trend while doing it, thanks to its pistachio colourway (promise).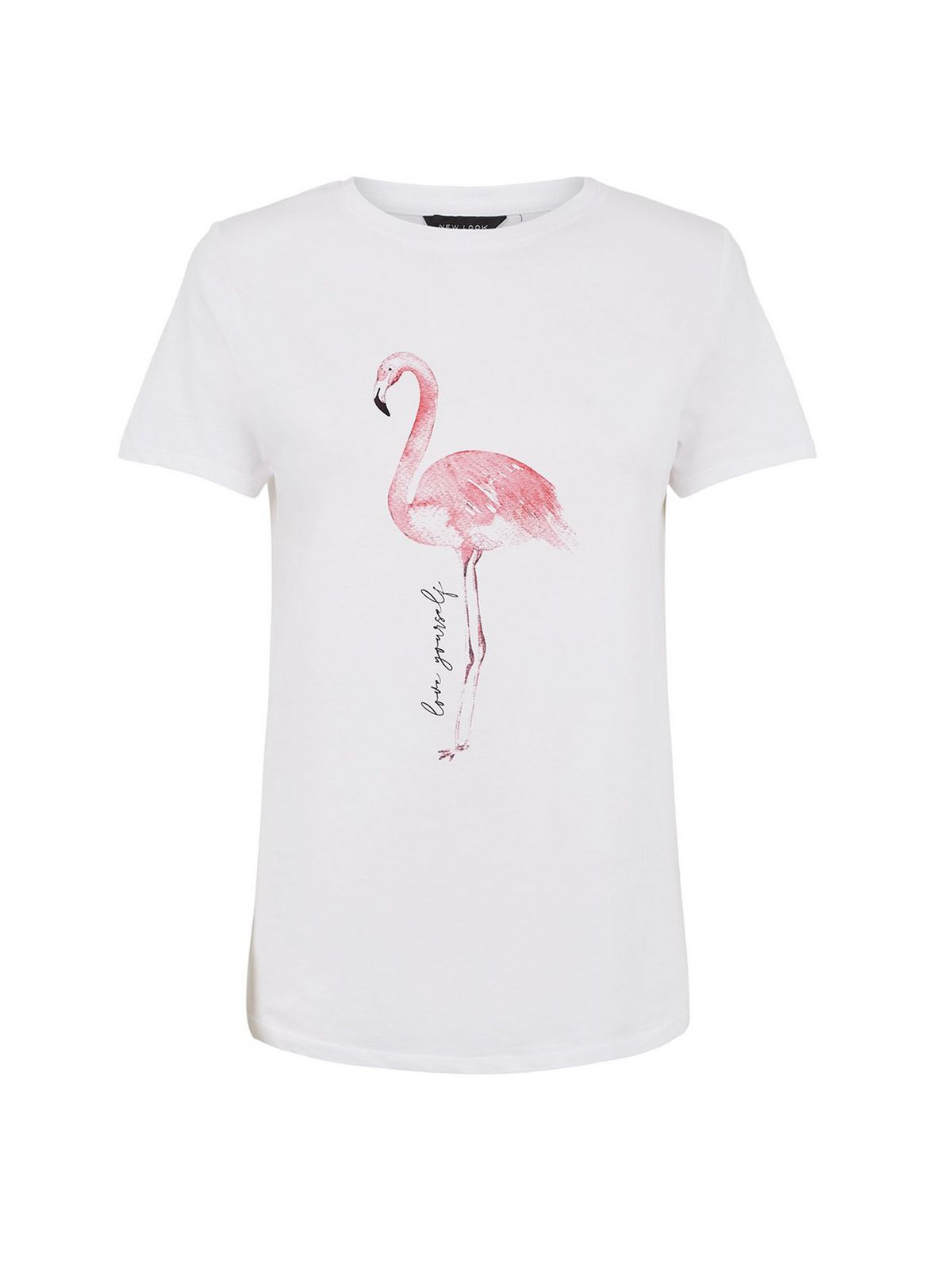 11. White Flamingo Print T-Shirt - £8.99
A positive flamingo 🦩 slogan? Sure. You do you. The best things about this printed tee, aside from featuring one of our fave animals, is that it's in our Kind range and it's made using organic cotton.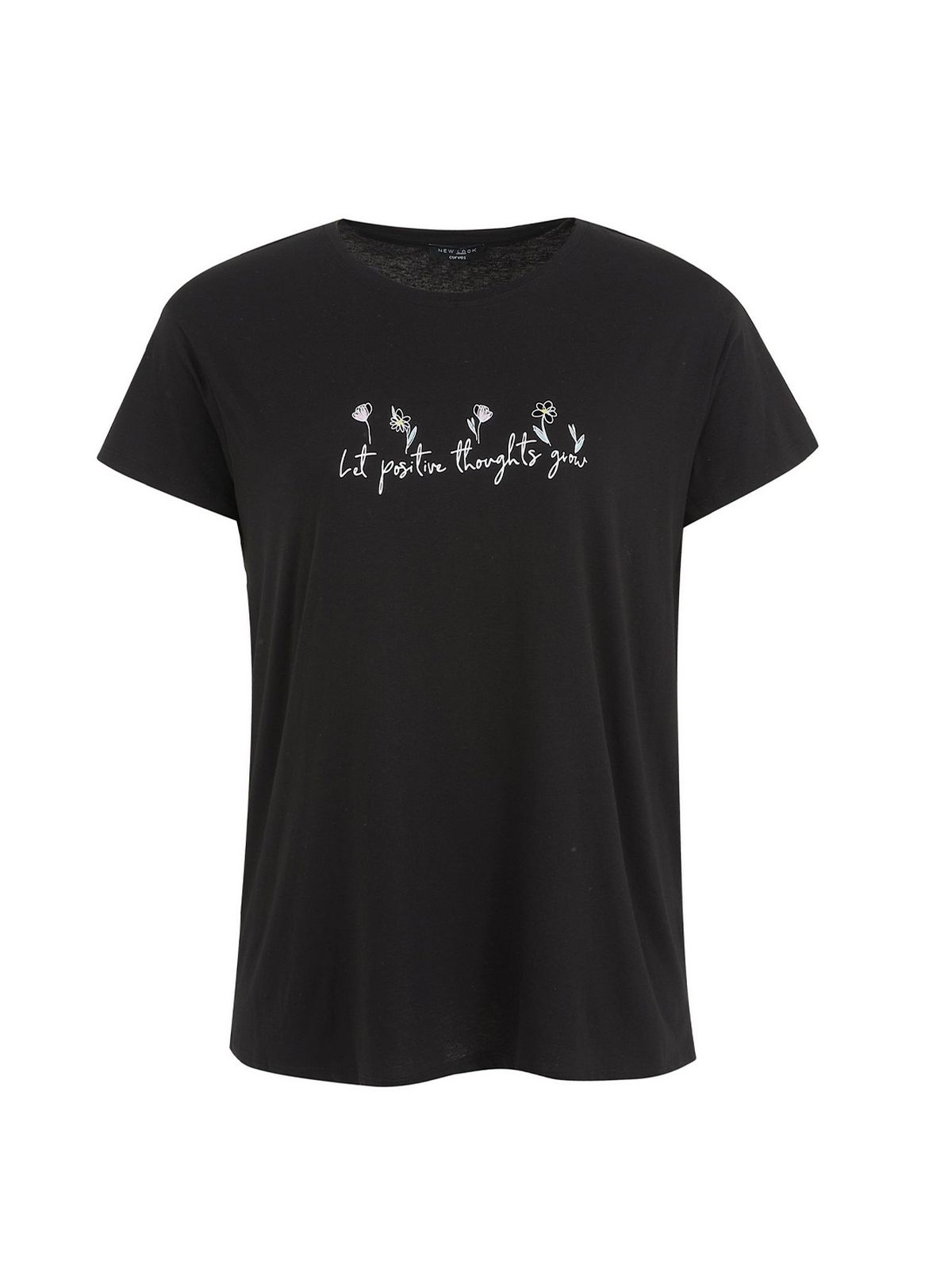 12. Curves Black Positive Slogan T-Shirt - £8.99
Feeling excited and optimistic about the 62 days left of summer 2020? 🌞 Same here. Throw on this slogan tee and let your sunny vibes show and continue to grow, we say. 
13. White Floral Lips Print T-Shirt - £8.99
Our best selling lip-print top has just been updated for the season. Yes, we're talking about organic fabrics, garden-fresh illustrations and 'La Belle Fleur' slogans. Thumbs up.