Skip to content
Skip to navigation
Who's Wearing What
12 Memorable Academy Award Moments
by Adam Fletcher, Copywriter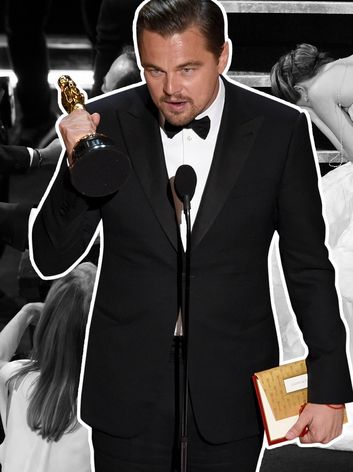 Every year, between November and February, awards season kicks off. As well as celebrating outstanding accomplishments in the film industry, there are also some unscripted, history-making moments that are well worth remembering, too. From Helen Mirren knighting Daniel Day-Lewis to Ellen DeGeneres' crowd selfie, we look back at the celebrities that made awards season even more memorable. And the winner is...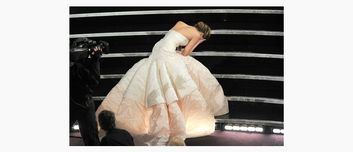 1. Jennifer Lawrence Falls Down, 2013
Many celebrities have fallen when they've accepted an award – but none have looked as good as Jennifer Lawrence in Dior while taking a tumble.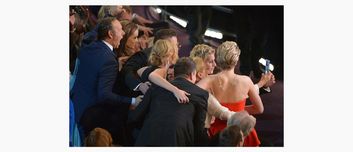 2. Ellen DeGeneres Takes The Best Selfie, 2014
There's no denying that we all love a good selfie. Featuring Angelina Jolie and Julia Roberts, this is one picture we wish that we were a part of.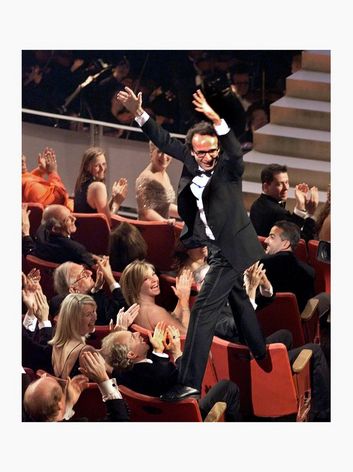 3. Roberto Benigni Gets So Excited He Stands On His Chair, 1991
Winning an Oscar is an exciting moment – and sometimes you just can't hide that thrill. Introducing director and actor Roberto Benigni who jumped over the chairs during his acceptance speech.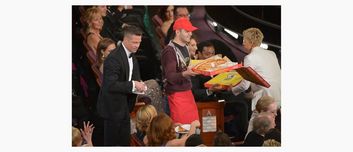 4. Ellen DeGeneres Orders Pizza And Gets Brad Pitt To Dish Up, 2014
Where better to eat pizza than at the Academy Awards? During The Oscars in 2014, Ellen DeGeneres ordered complimentary slices for hungry A-listers in the audience.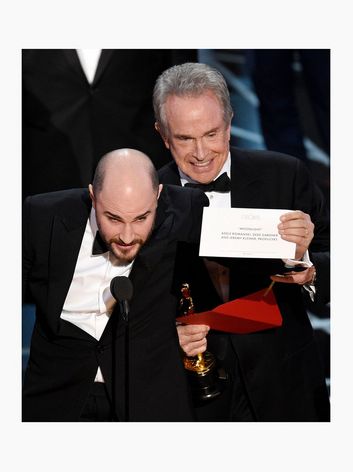 5. Warren Beatty Announces The Wrong Winner, 2017
Not La La Land. Moonlight. Here, at the Oscars in 2017, Warren Beatty mistakenly awarded Best Picture to the wrong team and movie…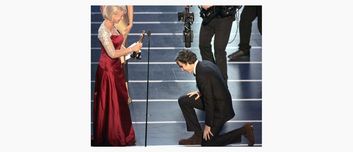 6. Daniel Day-Lewis Asks Helen Mirren To Knight Him, 2008
Some call it the 'knighting' award; we like to call it the Daniel Day-Lewis bending at the knee and receiving his Oscar from Helen Mirren in 2008.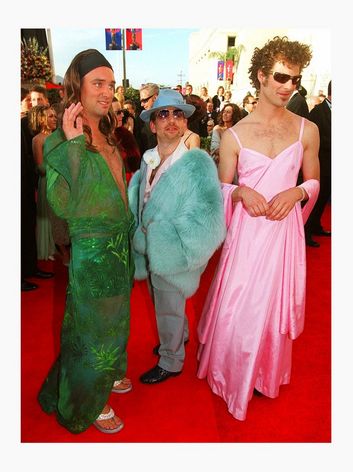 7. The Creators Of South Park Dress Up As J.Lo, 2000
Just like us, the creators of South Park are fans of J.Lo's style. Arriving in fluffy jackets and tropical prints at the Academy Awards in 2000, here are their favourite Lopez-inspired looks…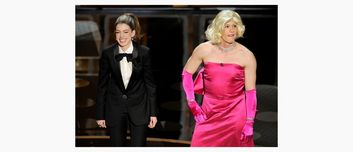 8. James Franco impersonates Marilyn Monroe, 2011
Actor James Franco never does anything by halves. For the Academy Awards in 2011, he hosted with Anne Hathaway in a Madonna-inspired look.
9. Jimmy Kimmel Makes It Rain Candy, 2017
We're all about a goody bag packed with sweet treats – especially when they come in the form of balloon-shaped bags like Jimmy Kimmel's at the Oscars.
10. Adrien Brody Kisses Halle Berry, 2003
Sixteen years later and Adrien Brody's Oscar moment lives on - and it was all thanks to a kiss with Halle Berry.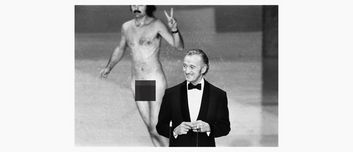 11. A Streaker Outshines Elizabeth Taylor, 1974
Flashback alert. At the 1974 Academy Awards, Robert Opel made history when he ran across the stage while David Niven was presenting an award.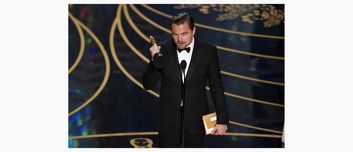 12. Leo FINALLY Wins An Oscar, 2016
With over 20 years at the top of his game, we'd agree that Leonardo DiCaprio more than earned his first Oscar award for Best Actor.