Skip to content
Skip to navigation
Who's Wearing What
Men's Races Outfit Ideas
by Adam Fletcher, Copywriter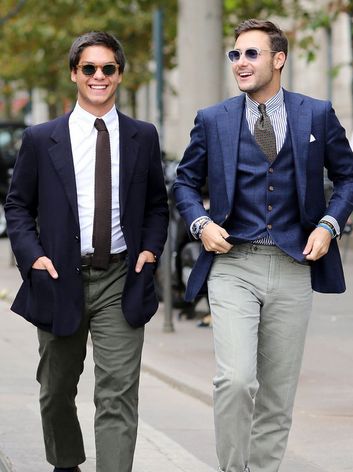 Now that we've officially dusted off the last days of winter, we bet that it won't be long before you start asking, or at least begin thinking about, the question, 'What do men wear to the races?' A.k.a. the seven simple words that will either (a) fill you with 100% pure excitement (b) cause you to panic - it can be a nightmare to build a look, or (c) all of the above. If you're anything like us, though, you'll be feeling the first-mentioned. But, whatever the case might be, there's no denying that it's one of the most-talked-about events in the calendar, so it's definitely worth prepping your look early and avoiding the stress. After all, a last-minute race-day shop isn't the energy to channel this decade. True story.

Right, so let's talk about men's trends. Of all the styles, there's one that seems to crop up at the races year after year. To be honest, in a nutshell, when you're at the races you always can count on seeing smart styles in abundance. Whether it's a range of plain or printed suits, button-up shirts complete with a pocket square, or tailored trousers and ties, guys you can't really ever go wrong with a 'polished' look. But, things weren't always this way... If you didn't already know, it was in the early 19th century that formal wear became known as the accepted way of dressing for the races, thanks to Beau Brummel (a close friend of the Prince Regent). Fast forward to now, however, and it's pretty safe to say that we'll be factoring in tailored suits and shirts at the races for another few years to come (at the very least).

So, yeah, it is all about looking good and feeling great in something smart, but at least half of what you choose to wear will come down to where you plan on going. Let us explain… Did you know that some race day events have specific dress codes to adhere to? Perhaps you're heading to Royal Ascot or the Derby Royal Races? If so, you'll likely need to wear something that's considered 'more formal'. But, if you're heading to others, like Newmarket Racecourse, for example, you've got the space to try a getup that has a relaxed vibe. So, it's probably best that you do a little background research (and take a read through our guide below) ahead of time. We'll just leave this here…
1. Double Up On Checks
Taking inspiration from the menswear race day tradition, this look features a two-piece suit and shirt. How to add your personal style? Pick one that features a check-print design and add a statement watch.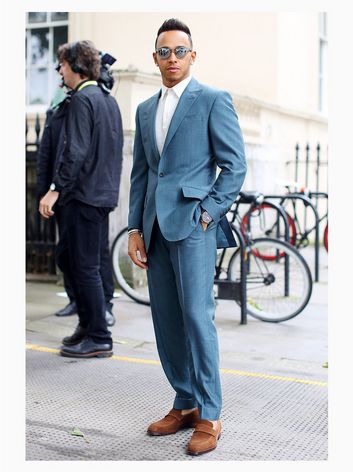 2. Keep It Easy
For a 2020 approach to the races, this shirt-and-no-tie look is kind of exactly what you need. Plus, a blue-grey colourway and sunglasses is a great way of standing out in the crowd.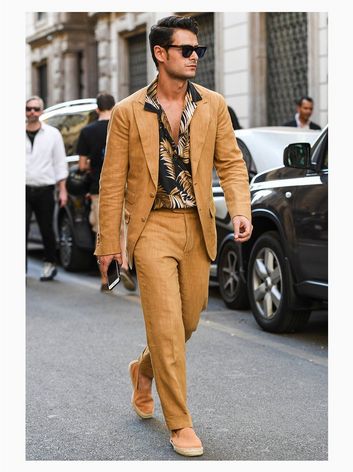 3. Why Not Try A Linen Suit
When it comes to this look, it's all about the 1950s. Enter the tropical-print shirt, the straight-leg trouser, and the matching tan blazer jacket. Then, add your favourite aviator sunglasses. Done.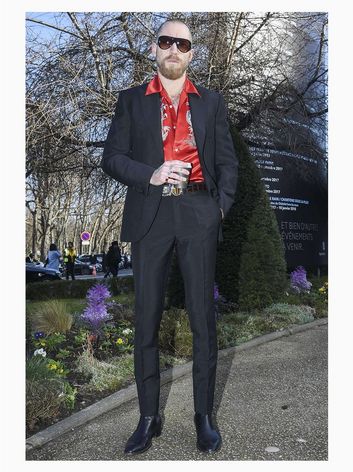 4. Standout In A Statement Shirt
Not all race-day looks have to be black tie. A printed satin shirt and textured belt are great additions to your outfit. Why? Well, they become instantly smart when you incorporate a blazer and tailored trousers.
5. Ditch the Blazer
You're feeling clammy, then chilly all of a sudden, then… To tackle spring's tricky weather, we recommend opting for a long sleeve shirt and a waistcoat. Just make sure that it matches the print of your trousers.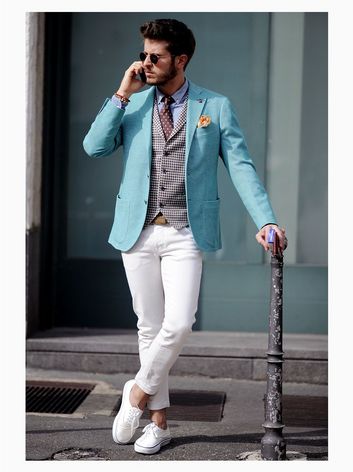 6. White Trousers Work Too
For some of us out there, going to the races means going to one main event. So, it's the perfect excuse to go all-out with your style. Contrasting jacket? Yes. White trousers? Why not. Check waistcoat? Definitely.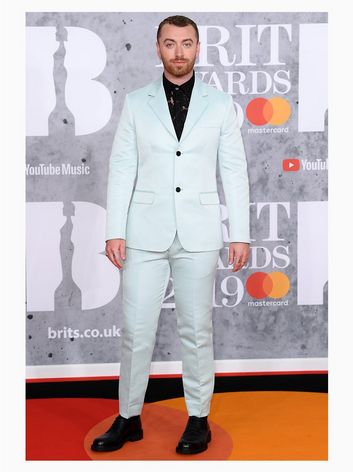 7. Who Said Guys Can't Wear Pastels
A tonal look becomes even more interesting with the aid of contrast. Yes, try going for a shirt in a different colour and texture, just like Sam Smith.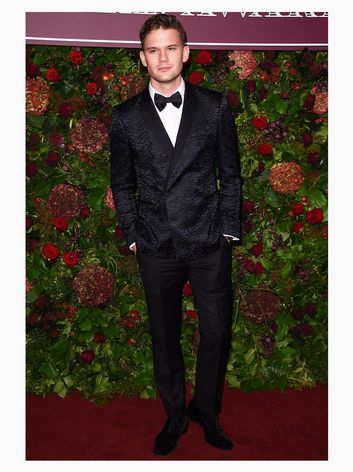 8. Opt For A Bow Tie
Yeah, going black tie is a sure win at the races, but this is the updated kind. Expect blazer jackets with subtle prints, contrasting lapels and textured shoes to finish everything off.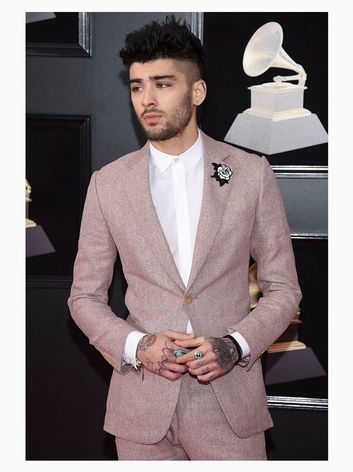 9. Forget The Tie
Part-smart, part-relaxed, a coloured blazer with an embroidered detail is perfect for a day at the races, and every single event you have planned after. Fact.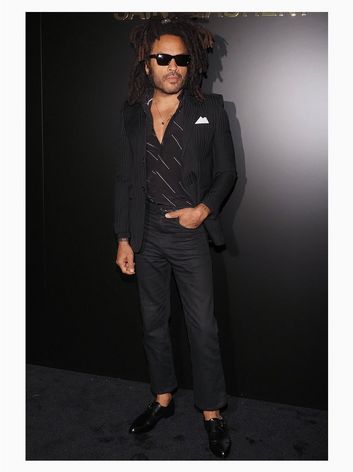 10. Embrace The Bohemian Trend
An unbuttoned stripe-print shirt, slim-fit chinos and polished shoes (worn without socks) not only taps into smart-casual territory, but it's perfect for the spring/summer weather, too.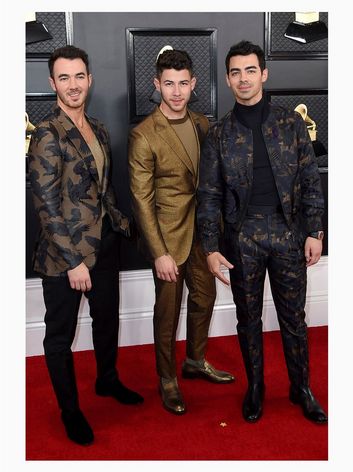 11. Match Your Mates
From watching the main event to sipping beers with the boys, there's a lot going on during a day at the races – so comfort is essential. A T-shirt or roll-neck knit under a blazer jacket has you covered for every eventuality.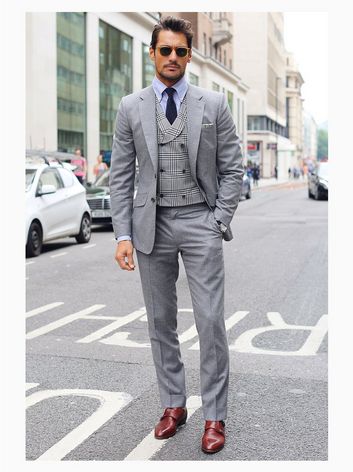 12. Try A 3-Piece Suit
Whether it's Ascot or Newmarket, adding a waistcoat (in a contrasting print) to your suit is a smart idea for almost any race you can think of. And the matching pocket square? That's the perfect extra.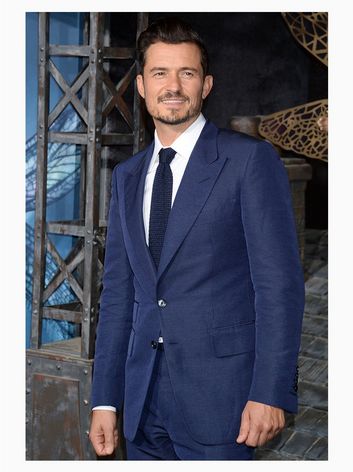 13. Classic In Navy
According to the vice president of the Pantone Colour Institute, blue is fashion's key shade for 2020. This applies to our outfits at the races, too. Just grab a tie that matches the shade of your blue jacket.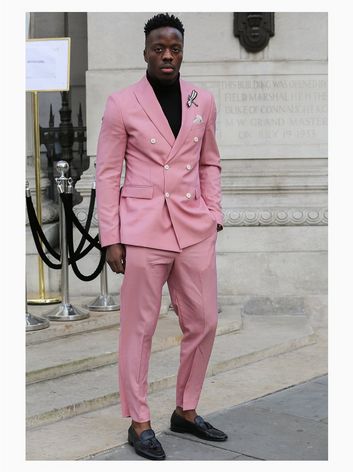 14. Go Bold With Colour
Allegedly, each race has an official flower that inspires the day's dress code. When the flower is a classic rose or an Azalea, don't look further than a suit like this one.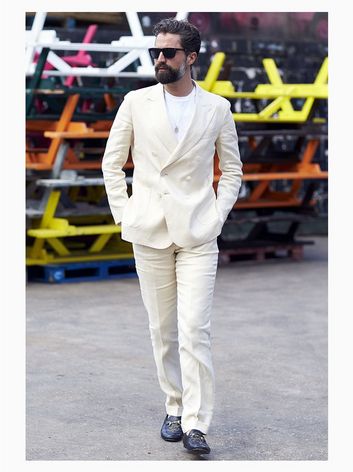 15. Fresh In All White
We've seen a similar suit to this one already, thanks to Sam Smith. However, this street styler offers a different way to wear a light-coloured suit: with a crisp white T-shirt and loafers. So suave.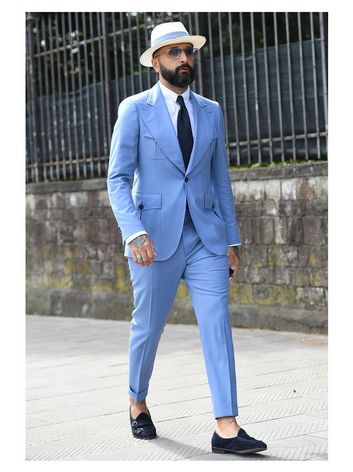 16. Don't Forget Your Hat
Nothing says 'guys, I'm going to the races' quite like a wide-brim hat. And, it works as the ideal accessory during the weird spring weather, too. April showers - no problem.
Pick Your Favourite
Grey Prince of Wales Check Print Blazer
£54.99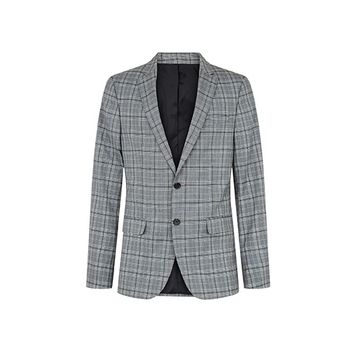 Tan Check Skinny Crop Trousers
£24.99