Skip to content
Skip to navigation
Who's Wearing What
The Best Denim Cut-Off Looks We'll Remember Forever
by Adam Fletcher, Copywriter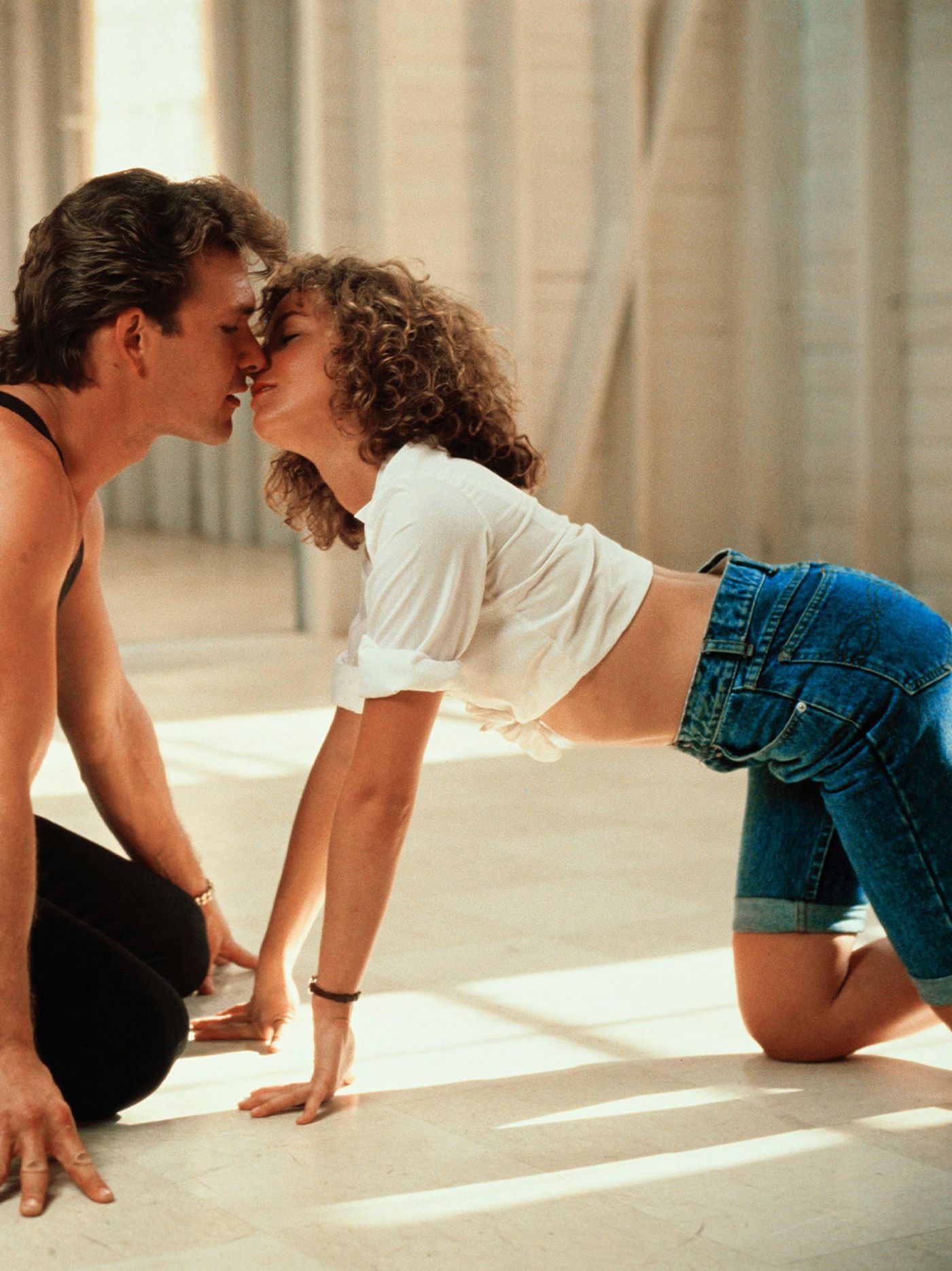 Still excited about the remaining weeks of summer? Praying for another heatwave to hit (like RN)? Not ready to switch your shorts for trousers just yet? Well, it might just be time to thank your lucky stars, because we've put together a round-up of the best denim cut-off moments throughout the decades.

Yup, this feature contains clever styling tips on how to get the most out of your denim cut-offs, and different ways to level up your late-summer looks, with a little inspiration from yesteryear. Don't get us wrong, we're obsessed with how denim cut-offs are being worn atm (think Bella, Gigi and Kendall), but we can't help but think that some of these throwback looks tick our style boxes just as much. 😉

​​​​​​​From Cindy Crawford to Cameron Diaz and a 00s-looking Mariah Carey, here are some of the ways our fave celebs have been wearing their denim cut-offs.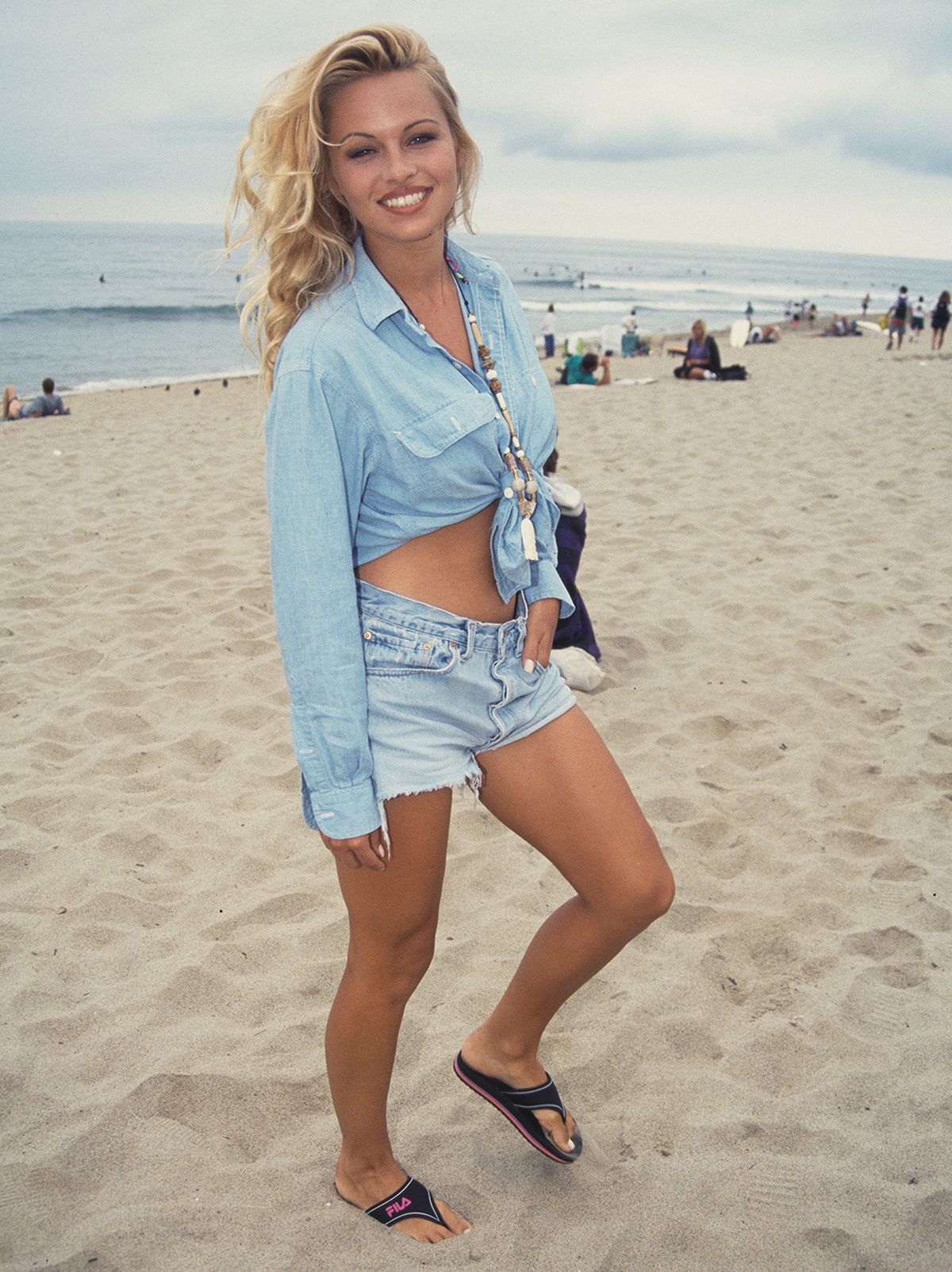 1. Pamela Anderson
Let's kick things off with short-shorts. Okay, so normal cut-offs are super-great and everything, but nothing beats wearing a pair of denim short-shorts when you're on the beach, or trying to soak up the last of the summer sun. The 90s way to style them? With a tied-front oversized shirt, black sandals, and a natural beaded necklace.​​​​​​​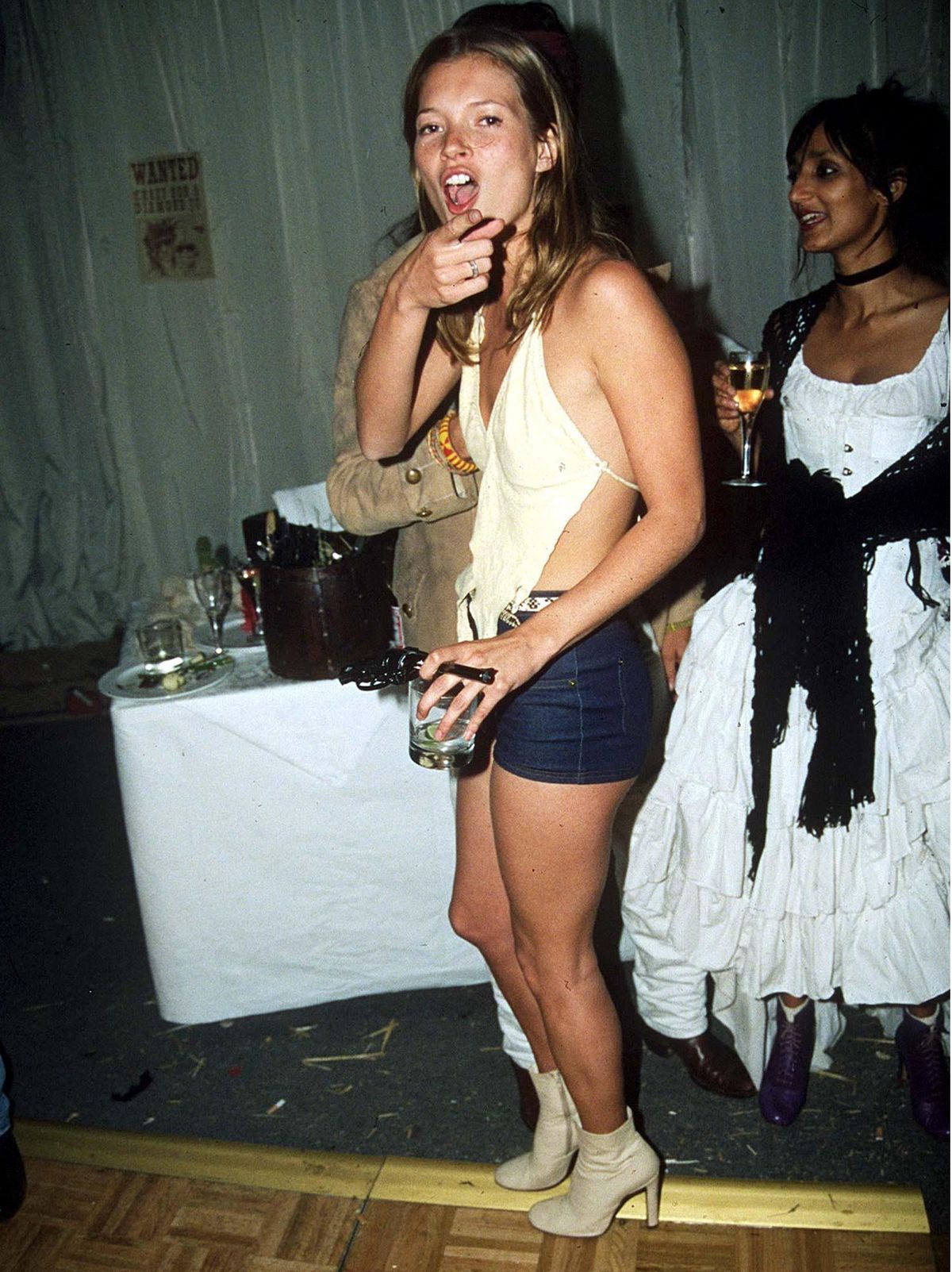 2. Kate Moss
Next, we have dark-wash cut-offs. Similar to Pam's, these cut-offs are also of the short-short variety, however, they're different in that they're designed with a skinny fit and come with a higher waist. We say: take a leaf out of Kate's book and style yours with ankle boots, a strappy top, a printed belt & a cocktail (or two).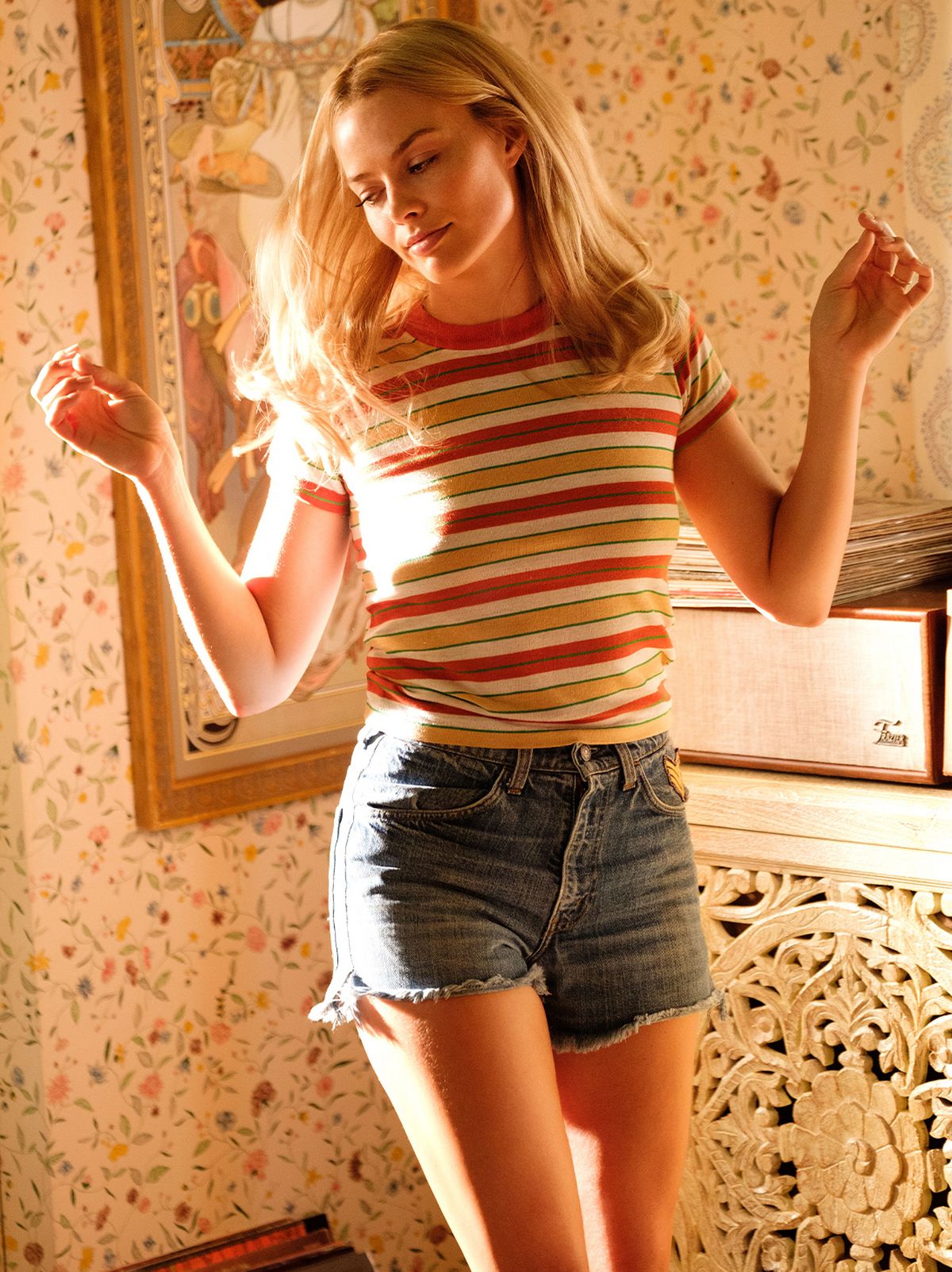 3. Margot Robbie - Once Upon a Time in Hollywood
When you talk about denim cut-offs, you have to mention the 70s-inspired pairs that come with a raw hem, a high-waist fit, and cute embroidery on the pockets. If you want to take those throwback vibes even further, just add a stripe-print tee.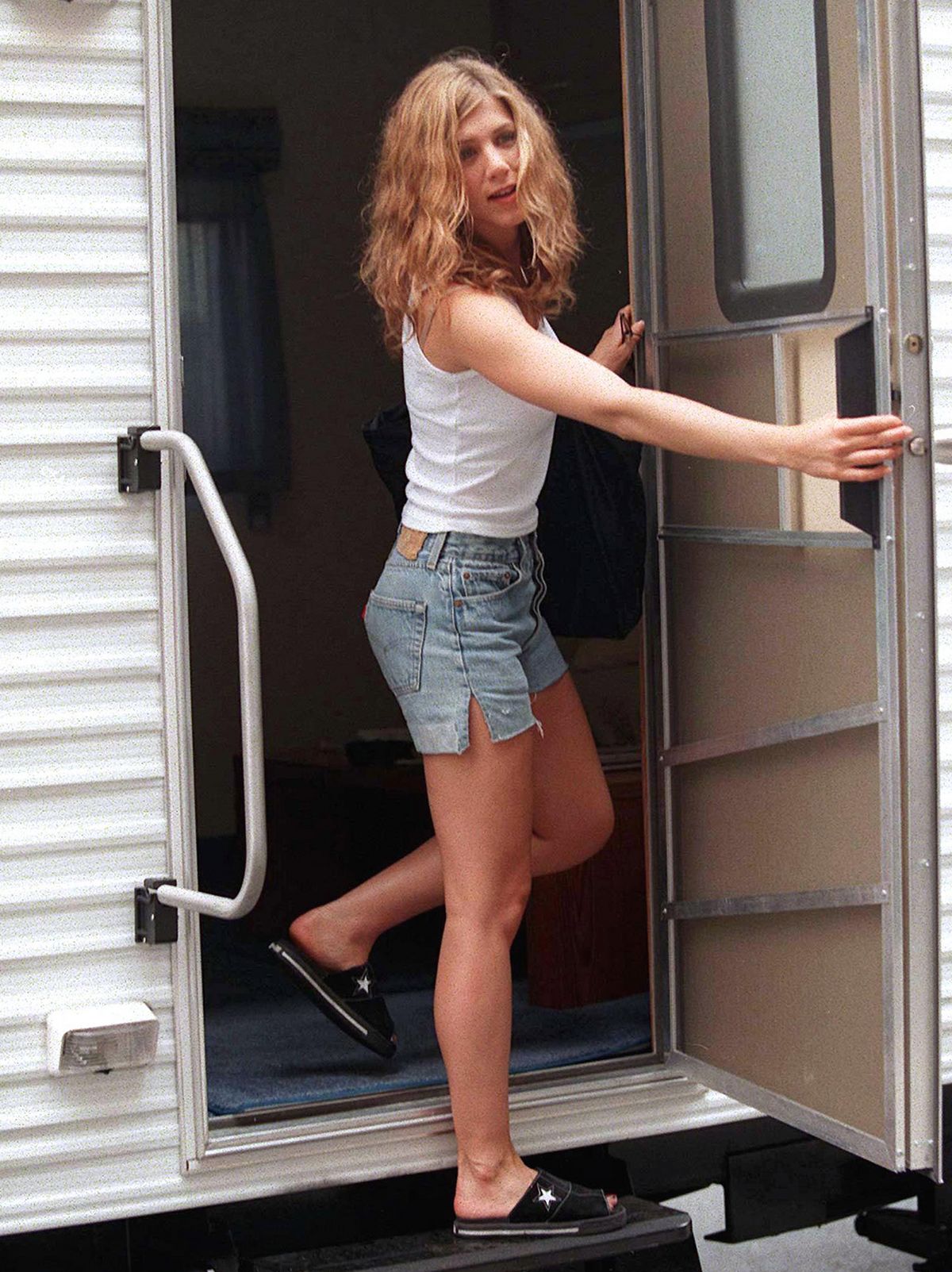 4. Jennifer Anniston
Jeans and a nice top. Can you think of a more iconic duo? We just did: denim cut-offs and a nice vest. In the 90s, Jennifer Anniston paired her favourite cut-offs (featuring a side-split detail and light-wash denim) with a simple white vest – and we're still obsessed with this look today.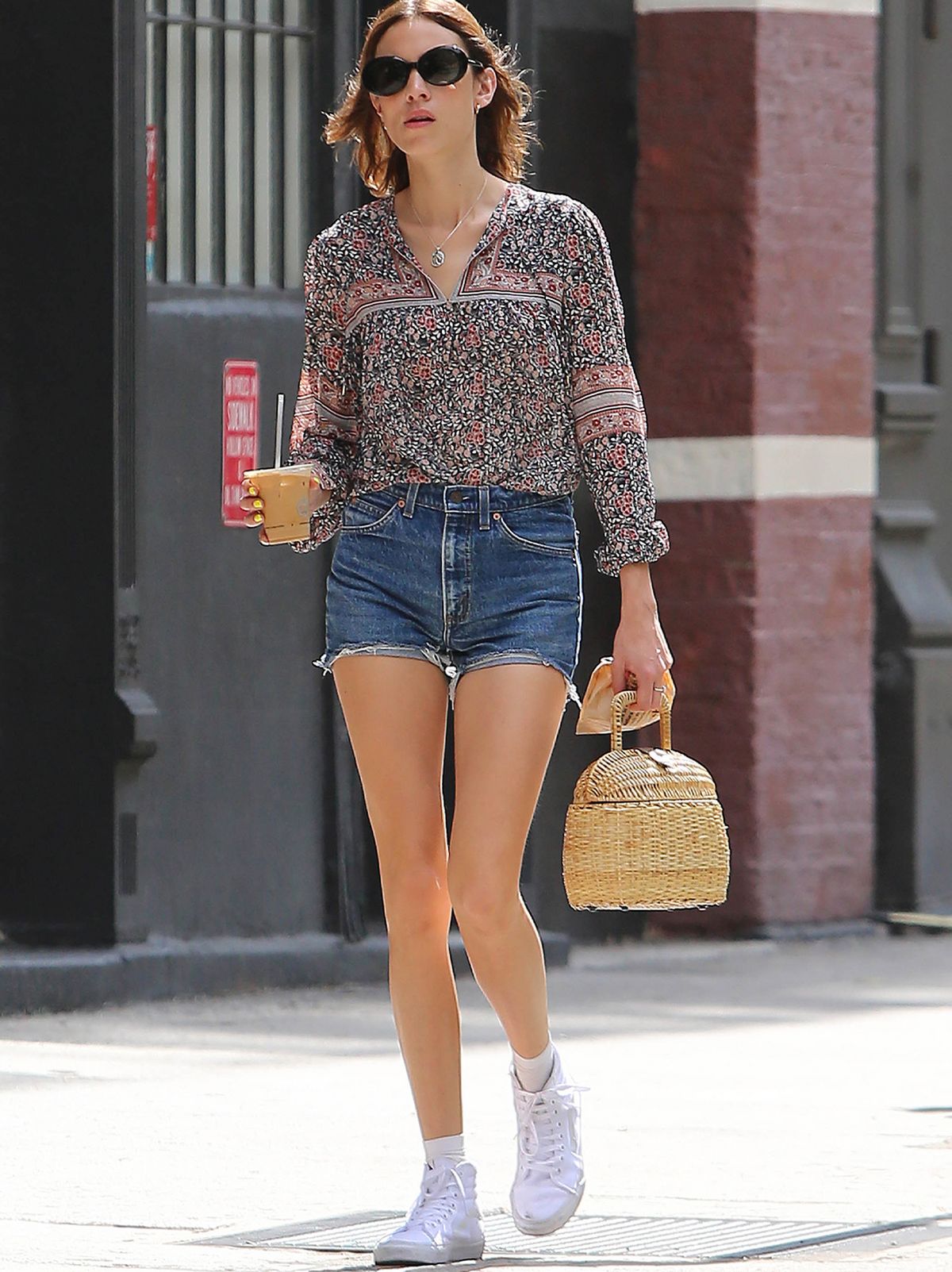 5. Alexa Chung
Alexa Chung is further proof that lattes always, always look good with mid-wash denim cut-offs, a printed floaty top and a cute straw bag. When it comes to your feet, we'd recommend opting for a pair of white lace-up trainers. Suddenly feel like taking a coffee break? Same.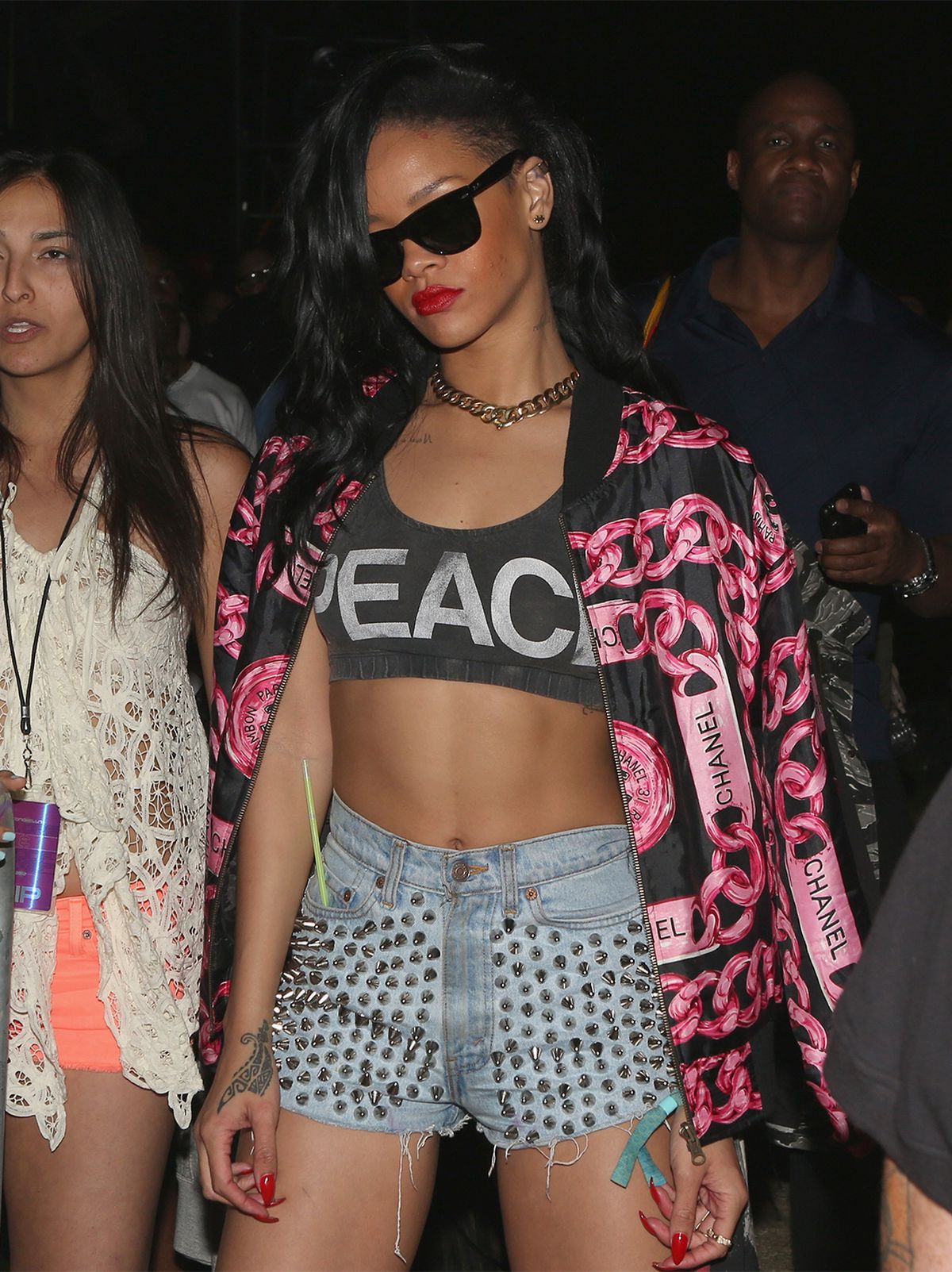 6. Rihanna
We said earlier, and we'll say it again: late-summer is ALL about trying to get the most out of those warm-weather styles. And, what better way to do just that than to cover your denim cut-offs with stud embellishments for a fresh, new feel? Rihanna, you are a jean-ius.
7. Michelle Pfeiffer
When Michelle Pfeiffer wasn't being Catwoman or Elvira Hancock, you could find her casually making iconic fashion moments in denim cut-offs. The things we love the most about her cut-offs? The neat (but raw) hems, skinny fit, and invisible button closure. And, can we just reflect on those strappy sandals and that striped shirt…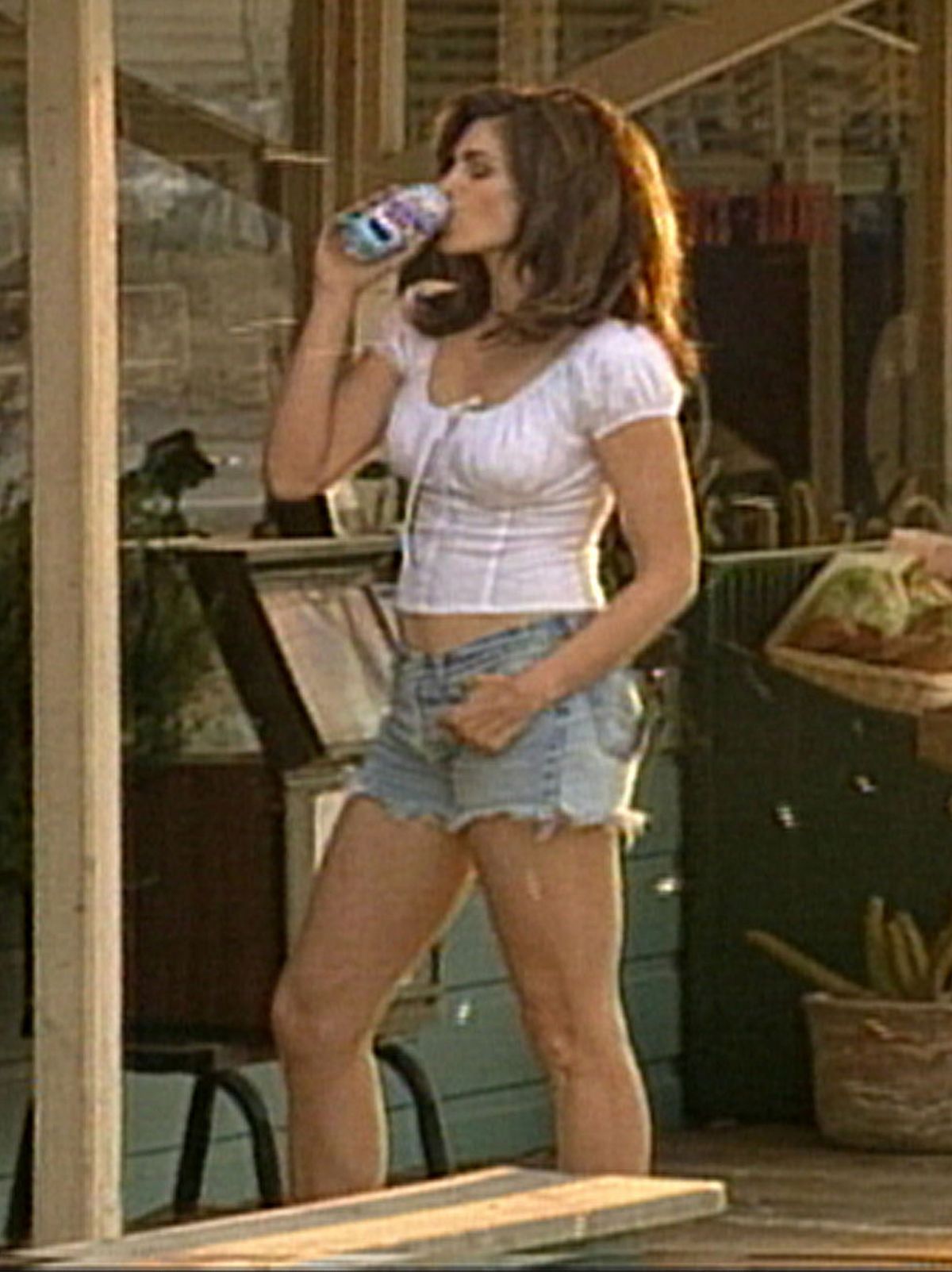 8. Cindy Crawford
When Cindy Crawford wore these vintage-y cut-offs with a milkmaid top a few years back, we knew that vintage-y cut-offs and milkmaid tops would be BIG news again someday. Be inspired by this fashion muse and wear yours with pared-back accessories (and a cold Diet Pepsi in hand, obvs).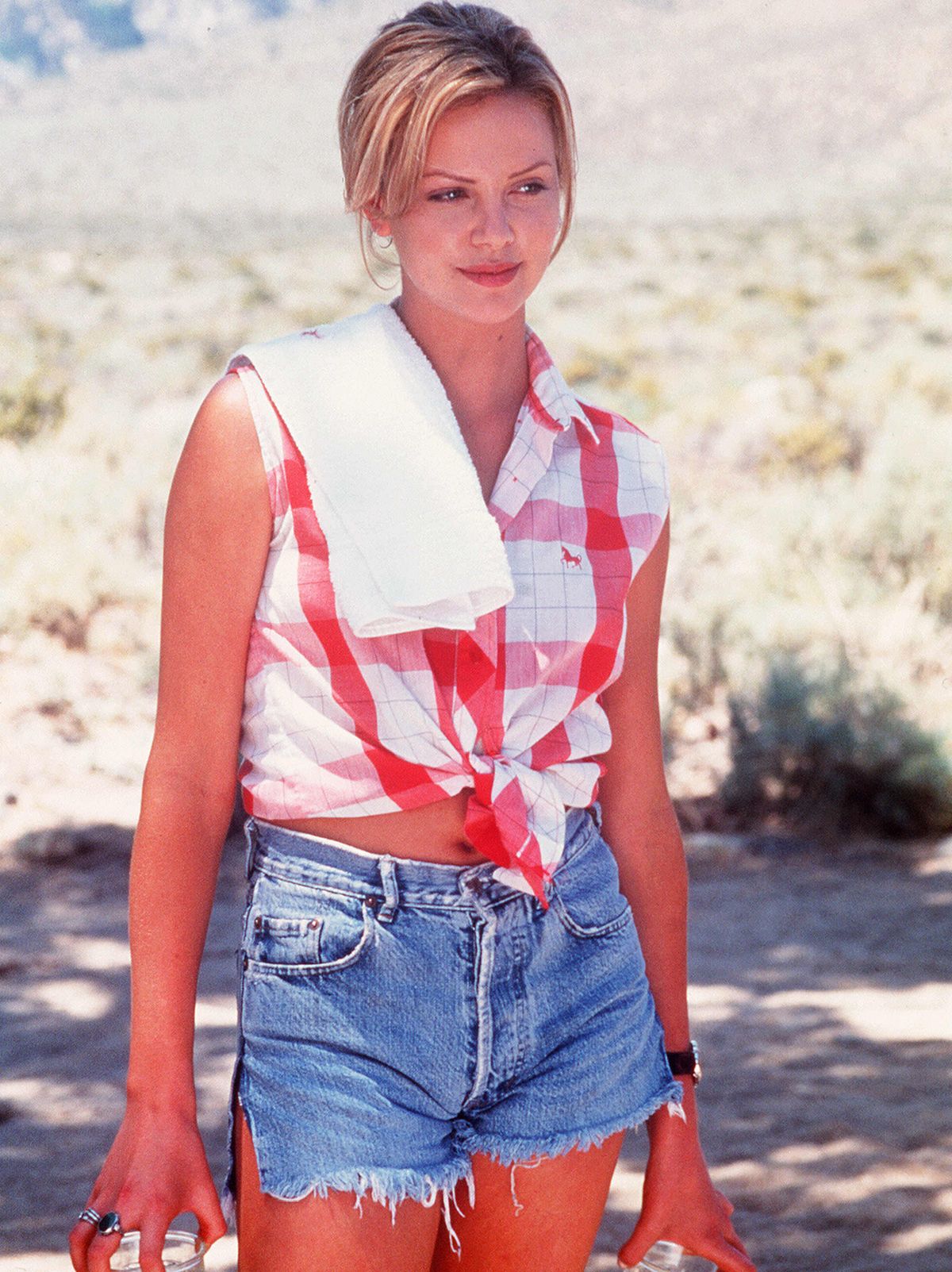 9. Charlize Theron
From now on, every time you see "cut-offs", we bet that you'll immediately think about adding a shirt to your look. And, we've got to admit, Charlize Theron has just upped the appeal again. This sleeveless check-print shirt works perfectly with these high-waist cut-offs, right?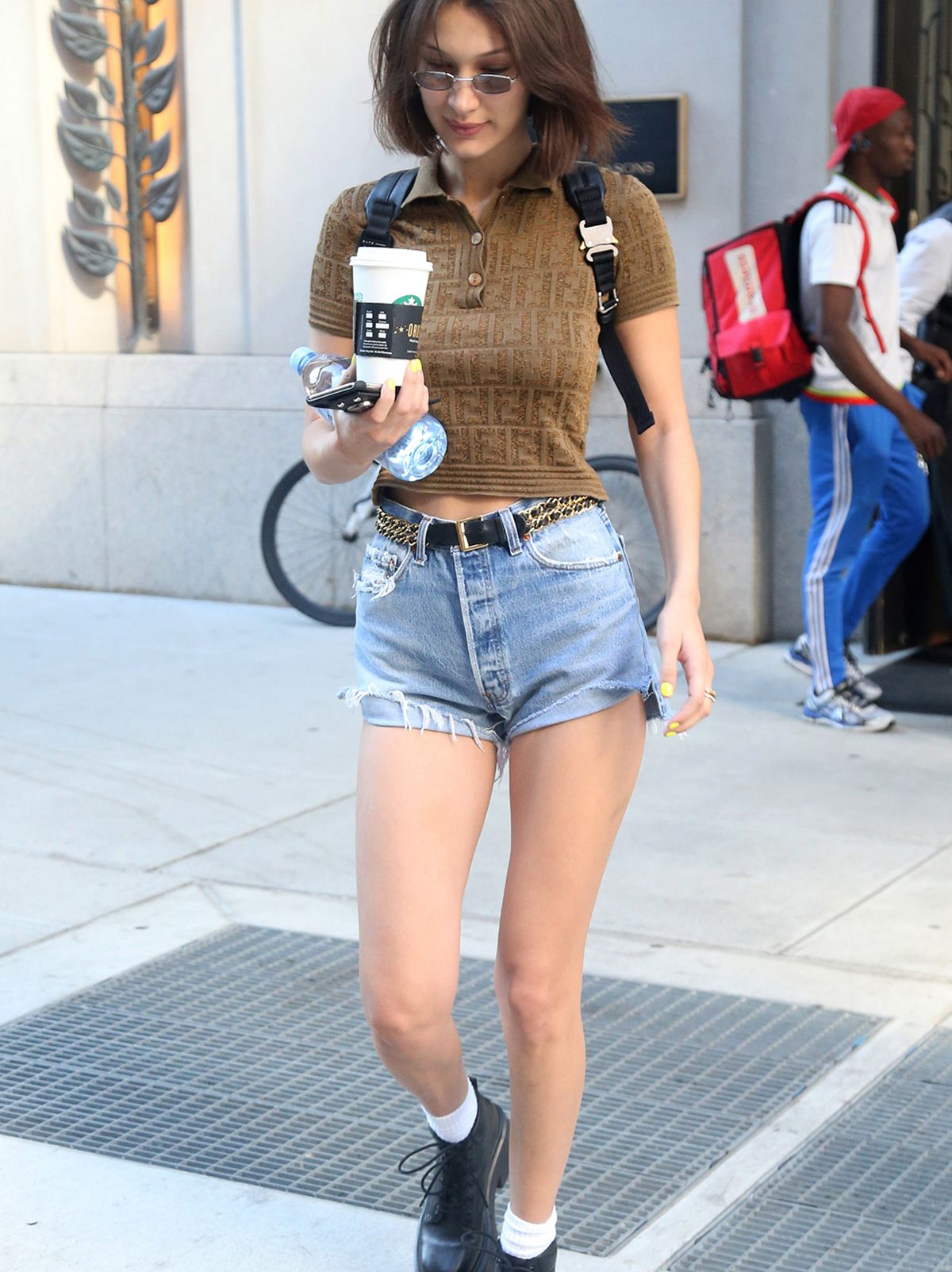 10. Bella Hadid
If you want to give that 90s-dressing thing a try, follow Bella Hadid's lead and pick up a polo top, then slip into mid-rise cut-offs and finish with chunky boots. Want to get completely carried away with adding those 90s vibes to your look? Add a CUTE backpack.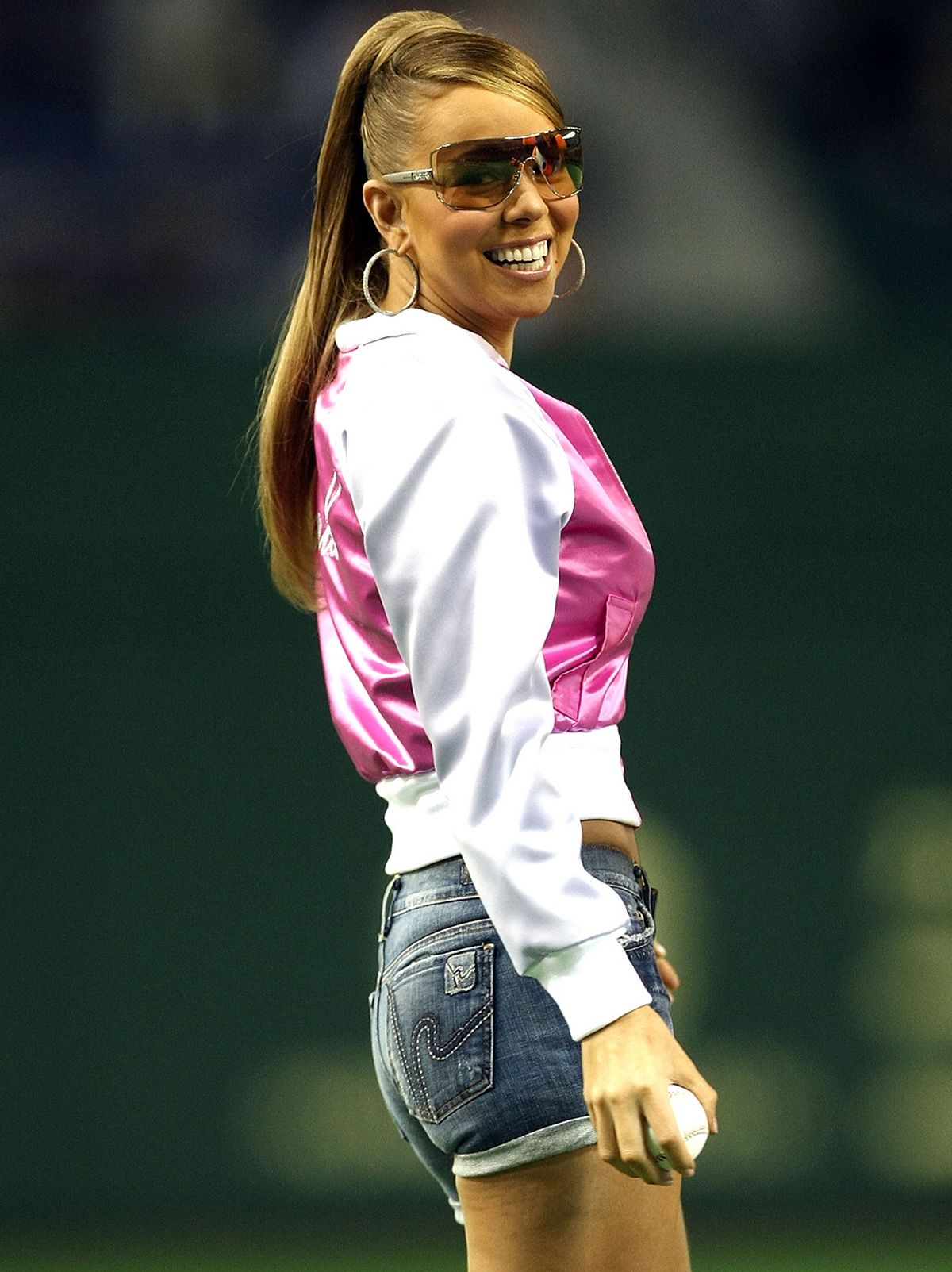 11. Mariah Carey
Mariah Carey's pink-and-white bomber jacket offers a sportier approach to the cut-off denim trend. We'd style this entire look with strappy sandals: to give a big ol' nod to the 90s. That not your vibe? You could also try lace-up trainers.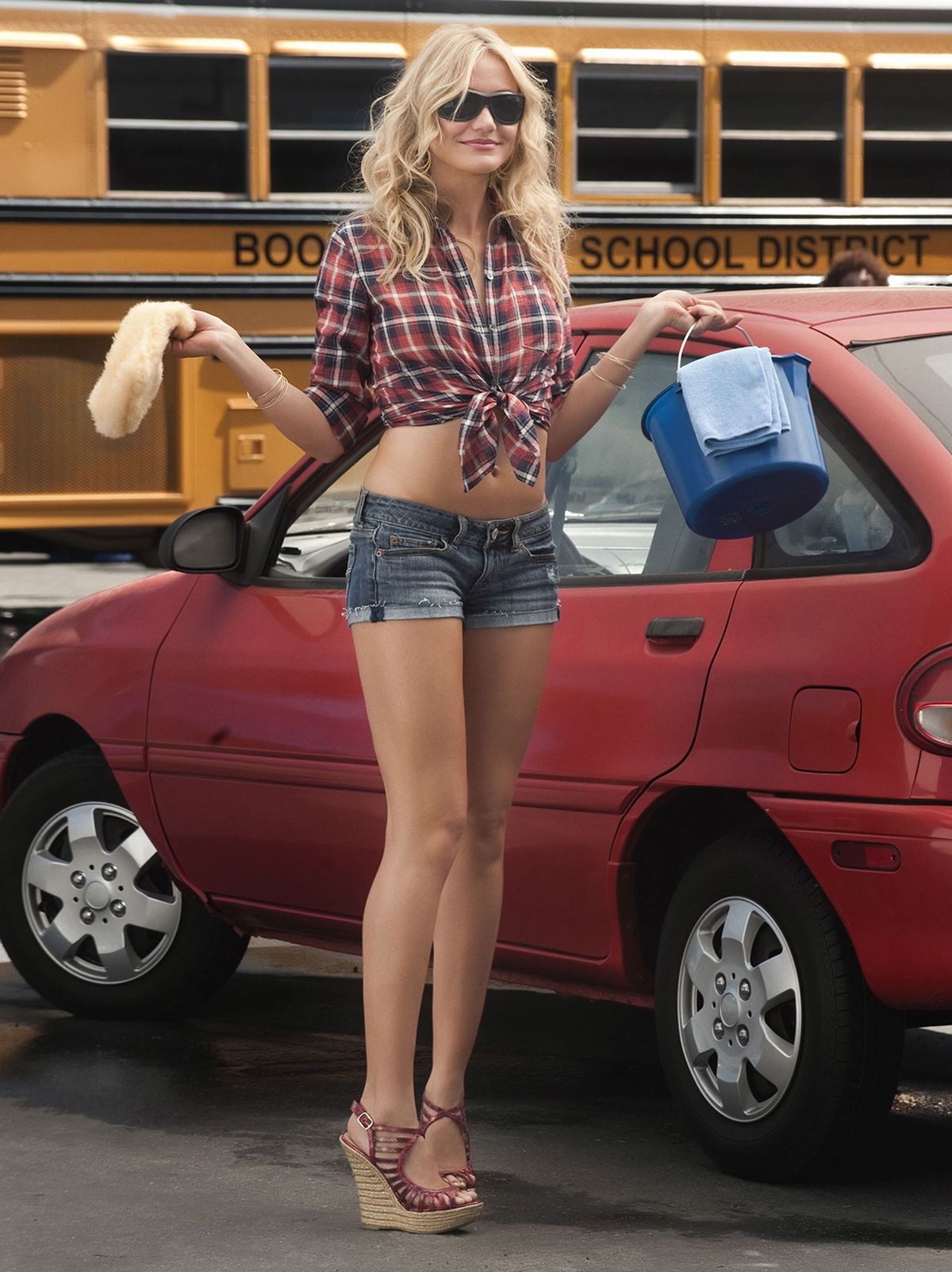 12. Cameron Diaz
There's something about Cameron Diaz's look that just ticks all our boxes. Let us show you what we mean… Denim short-shorts ✔ lightweight  shirt ✔ strappy shoes ✔ We're all about adding check-print layers & 90s footwear to our denim cut-offs.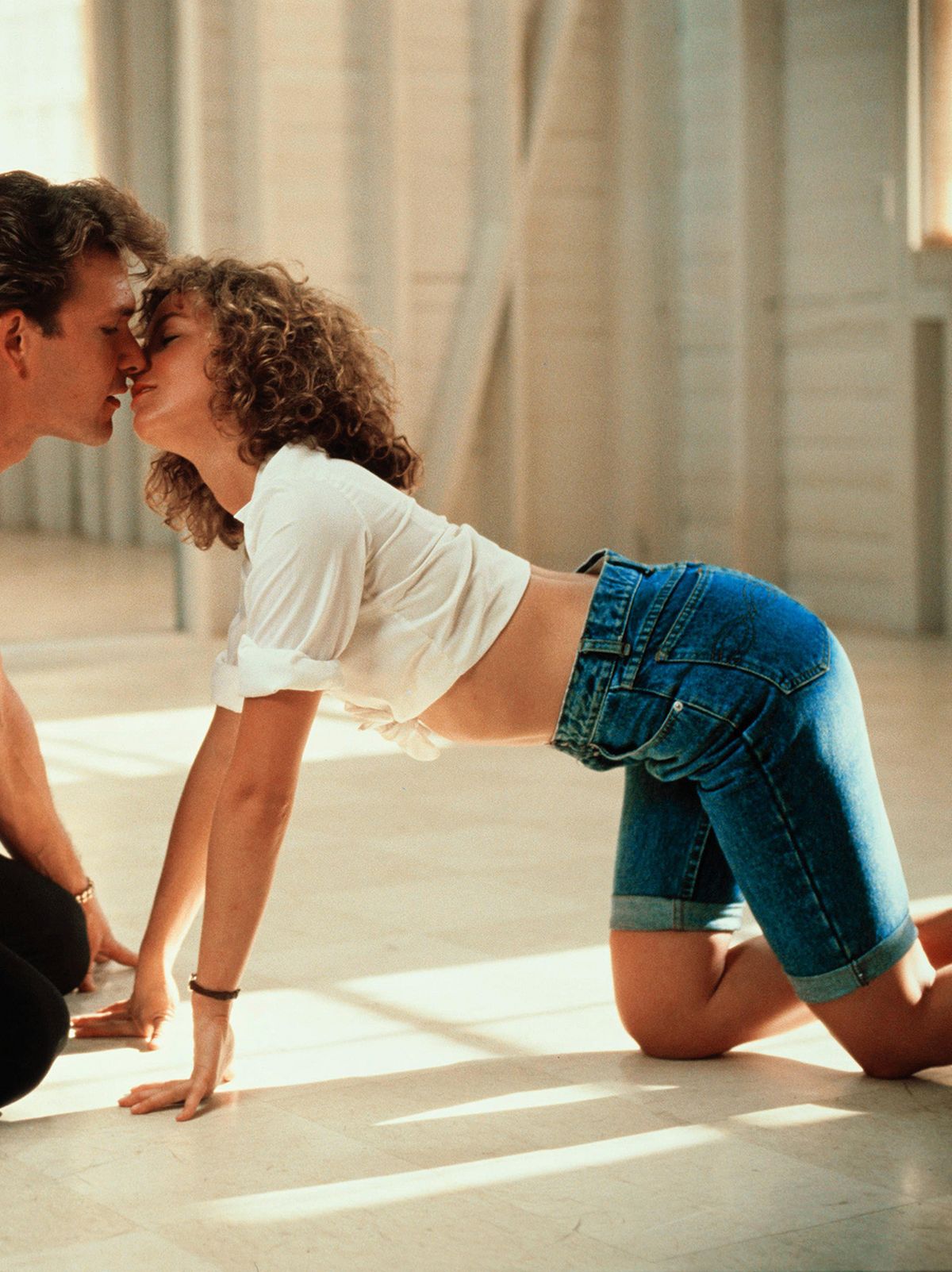 13. Jennifer Grey - Dirty Dancing
In case you didn't already know, cycling shorts are no longer just for lounging around the house (although, they are still good for doing just that) – especially when they're made from denim and feature a mid-wash shade, like Jennifer Grey's.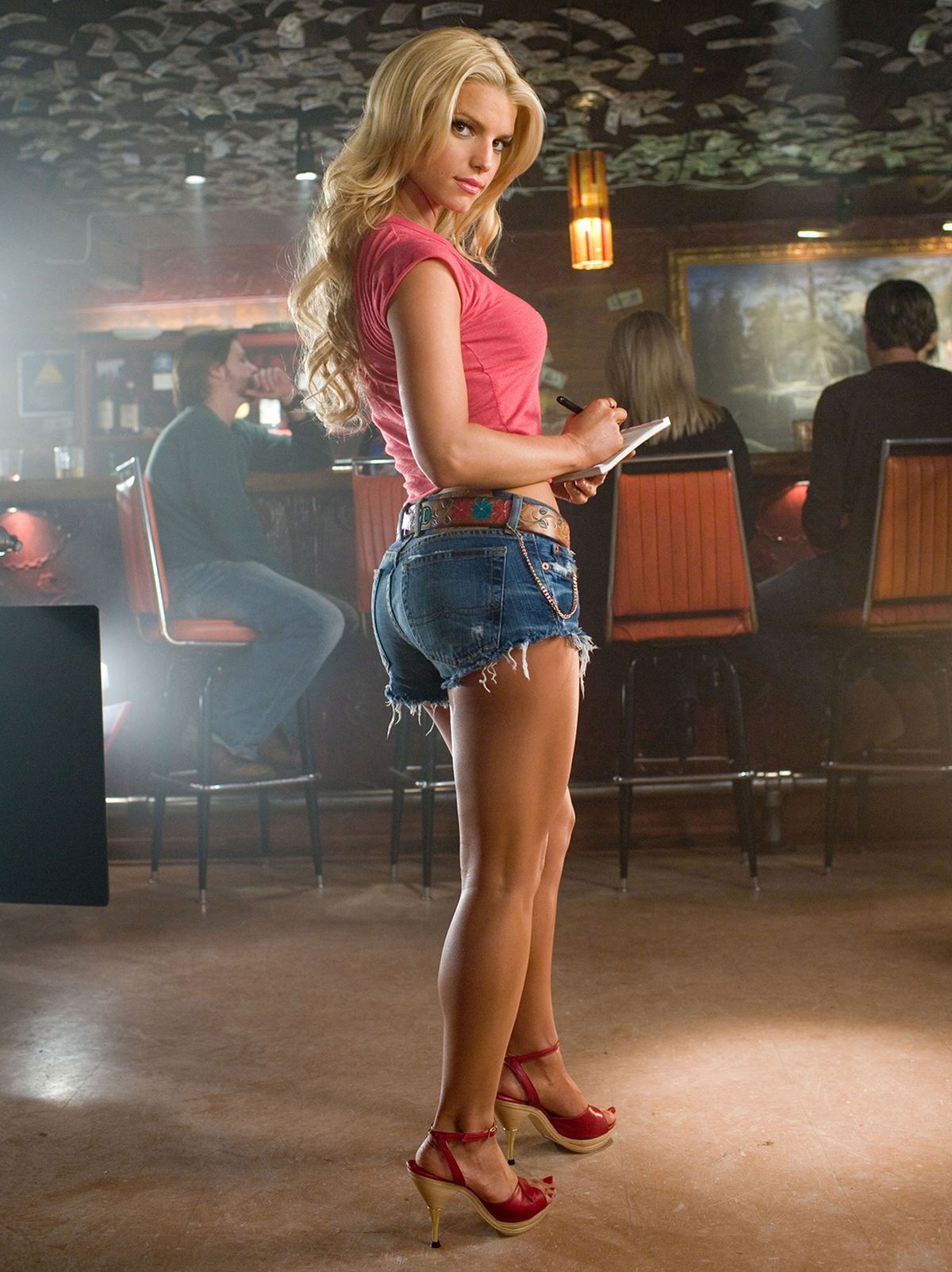 14. Jessica Simpson - The Dukes of Hazard
Take notes: a pair of frayed-hem cut-offs, a plain pink tee, a western-style belt and stilettos combine to make the late-summer look you've been searching for. Plus, these cut-offs are made with sculpting seams, so they'll enhance your shape.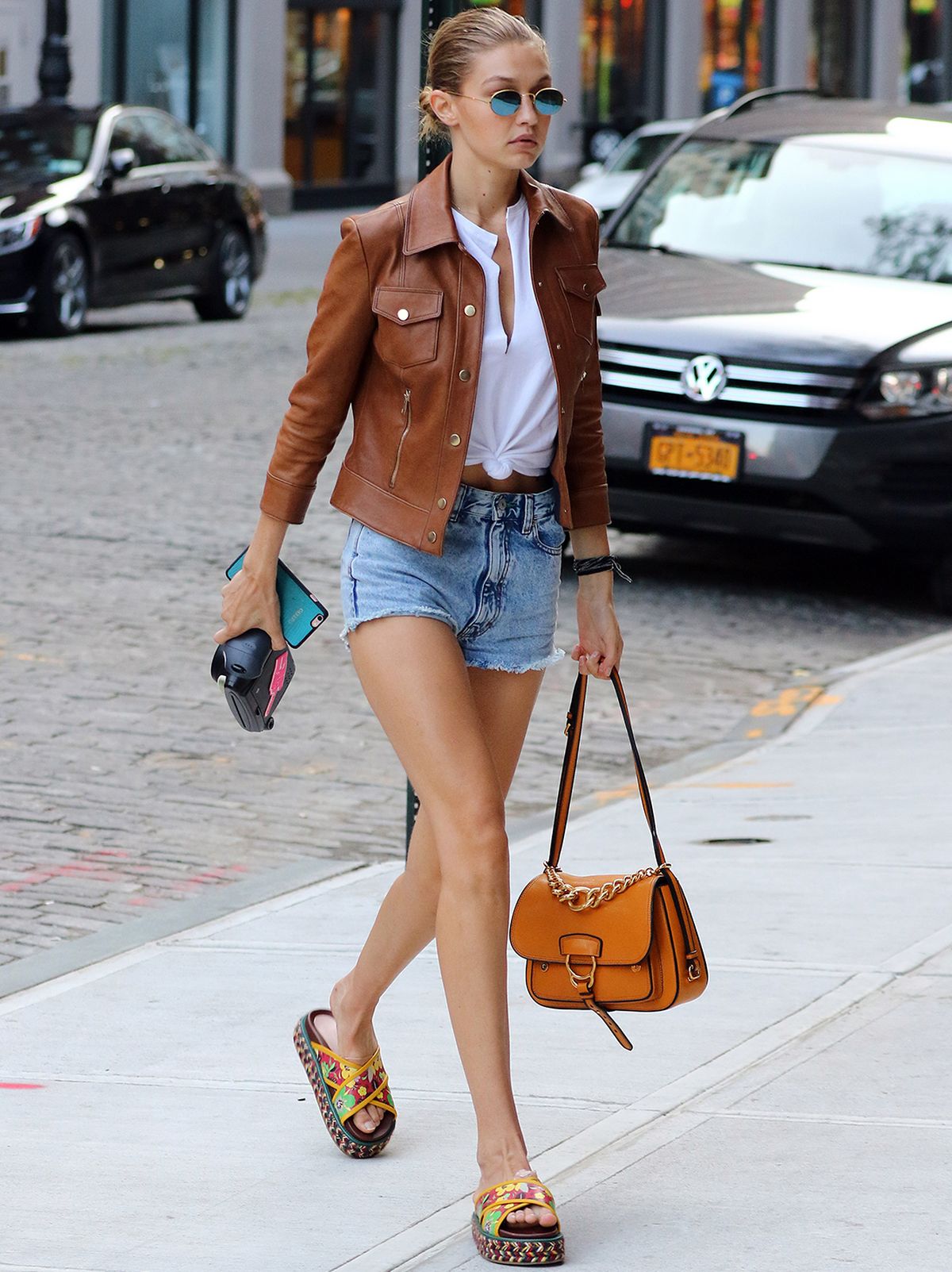 15. Gigi Hadid
Pops of colour, lightweight leather-look jacket, frayed cut-offs with a loose-fitting shape – also known as the perfect look for everything from picnics to family BBQs. Don't forget to add oval-shaped sunglasses and a polaroid camera.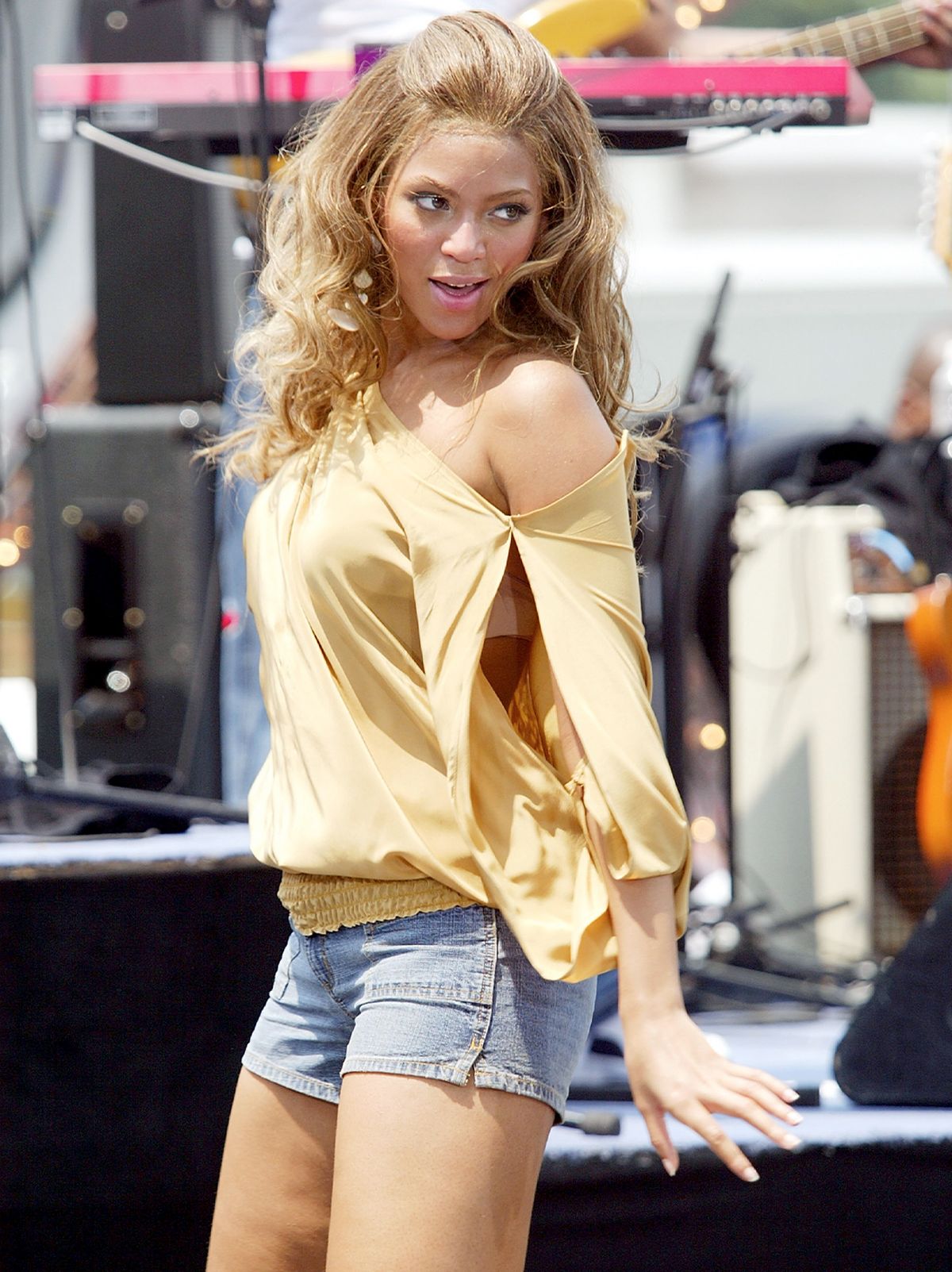 16. Beyonce
If we had a mantra RN, it would be: "if you like it, then you should put denim cut-offs with it." Yup. Whether your vibe is a yellow loose-fitting top or something with puff sleeves, a pair of cut-offs with contrast stitching is all we'll be adding to our end-of-summer looks.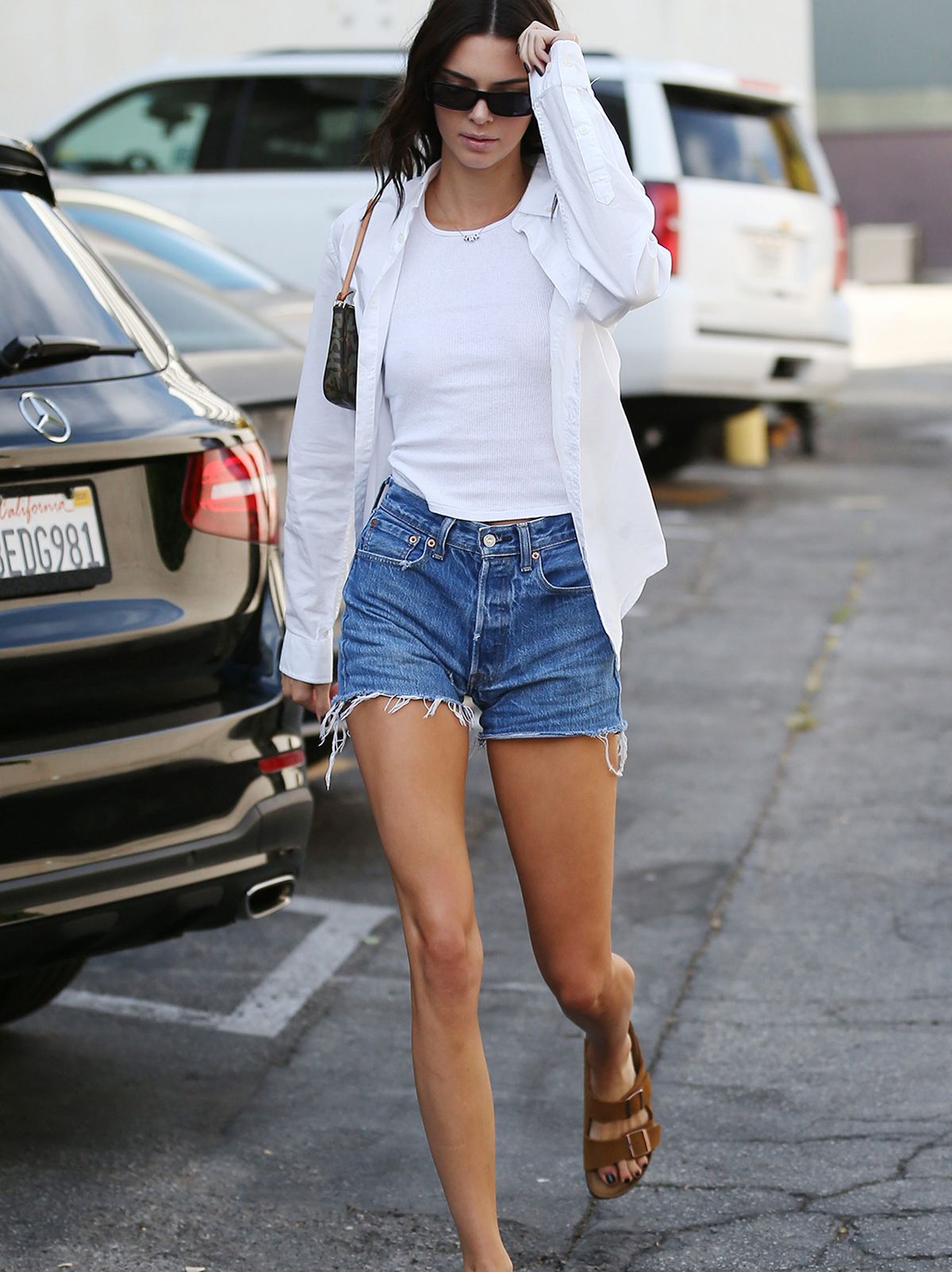 17. Kendall Jenner
Thanks to a fitted tee and a relaxed shirt, Kendall Jenner is showing us all how to combine white pieces with denim cut-offs. Taking it one step further, Kendall's added a baguette-style bag to channel the 90s trend but, to make it feel more modern, she's has also thrown some buckled sandals into the mix.
Pick Your Favourites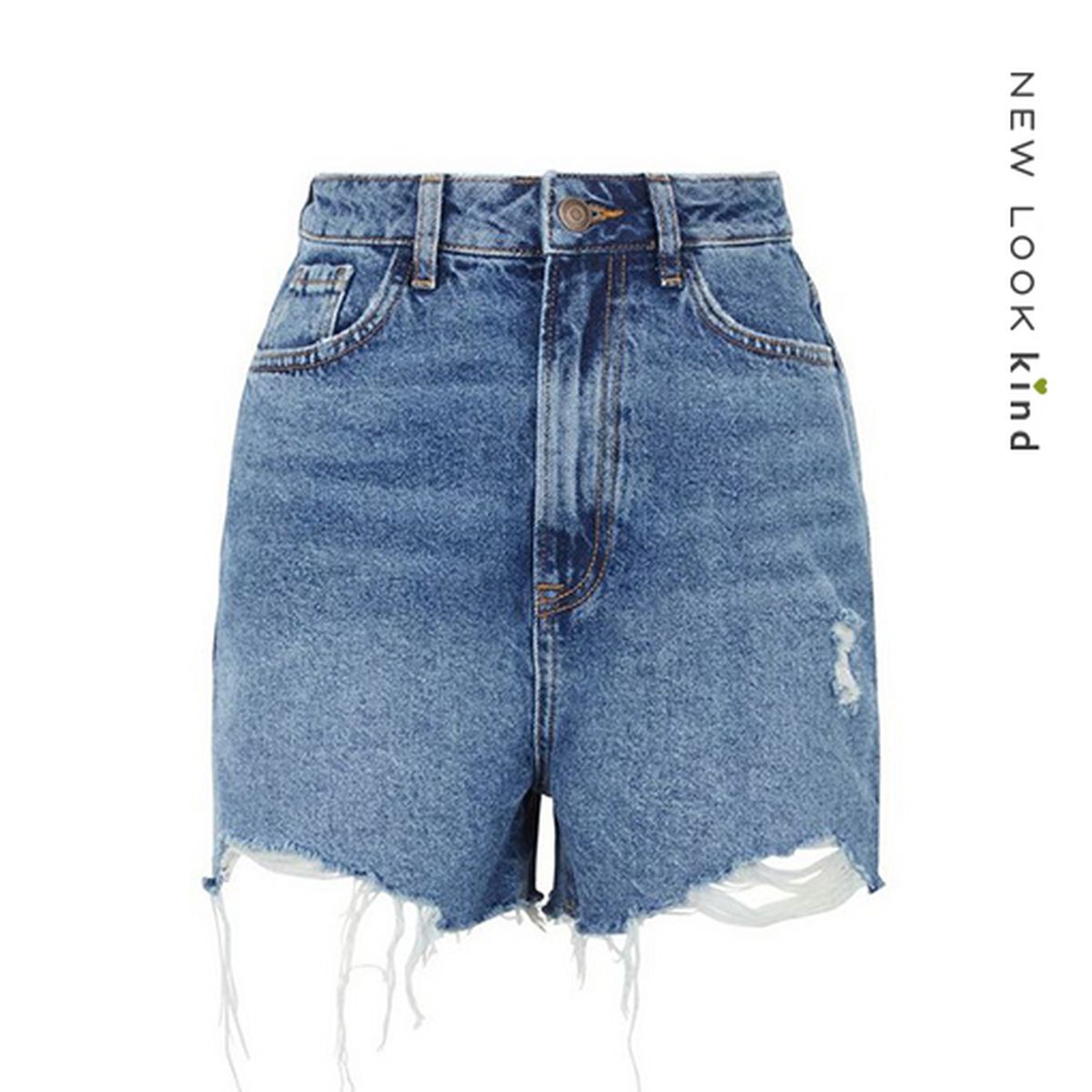 Blue Frayed High Waist Mom Shorts
£19.99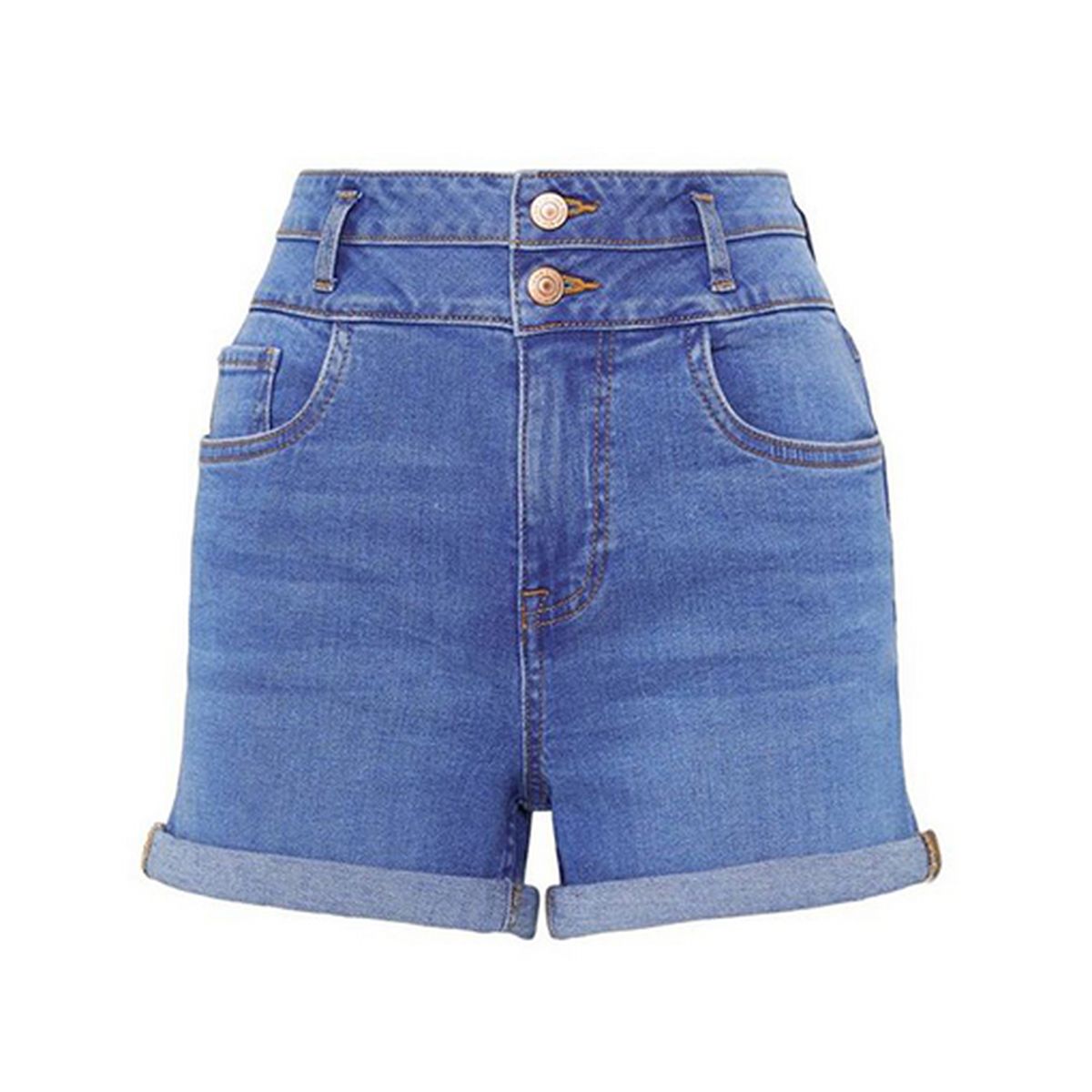 Bright Blue High Waist 'Lift & Shape' Denim Shorts
£17.99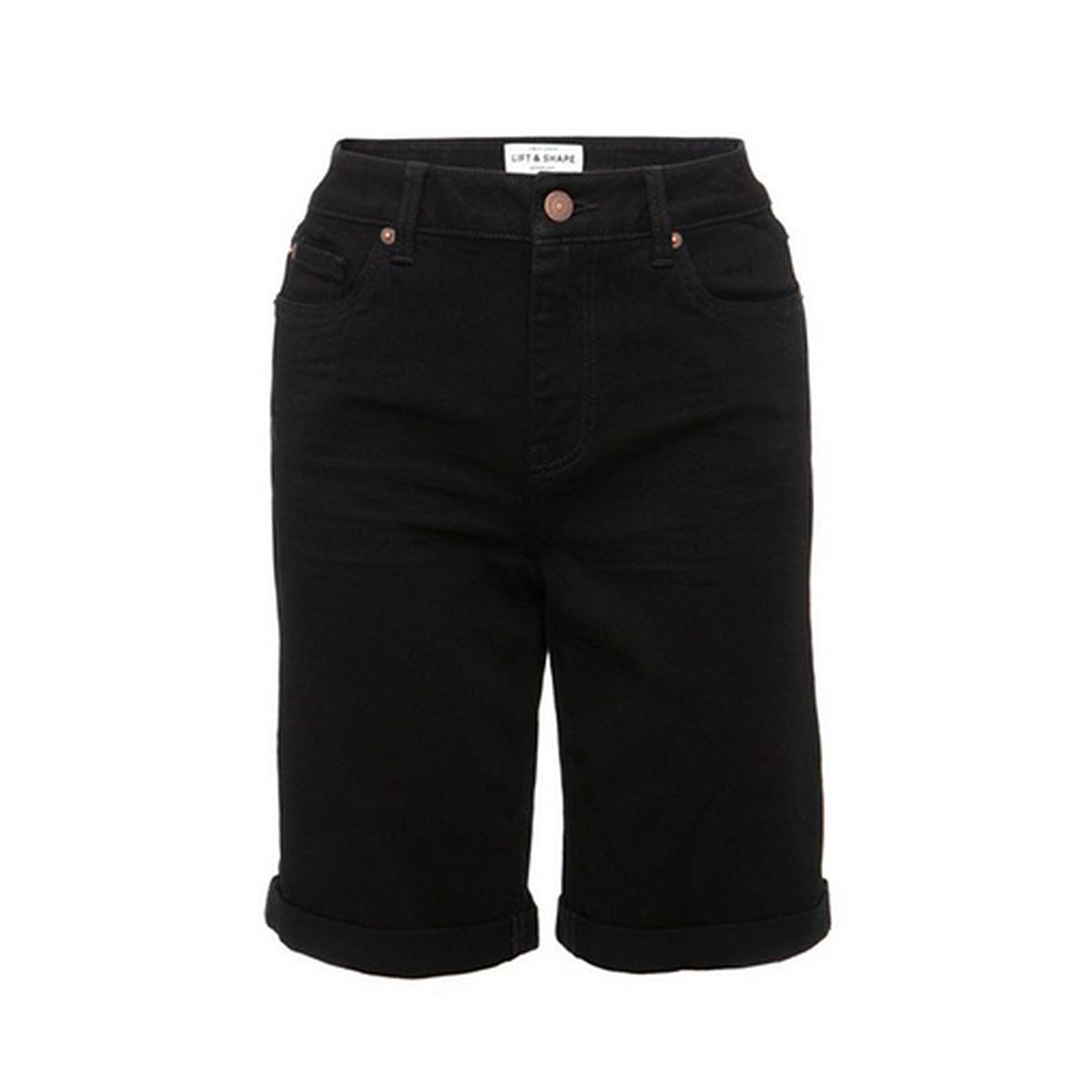 Black 'Lift & Shape' Denim Knee Shorts
£19.99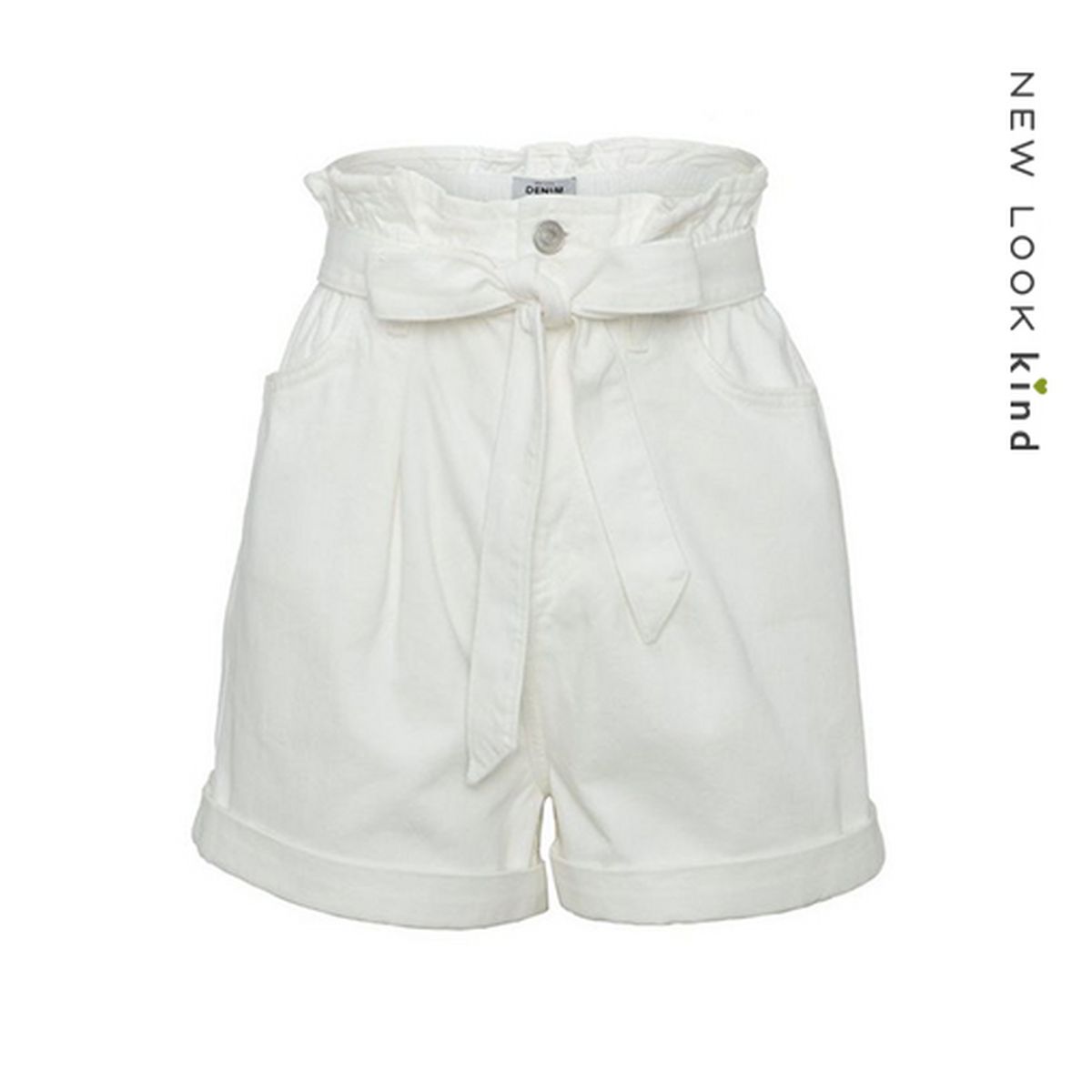 Off White Tie Waist Denim Shorts
£19.99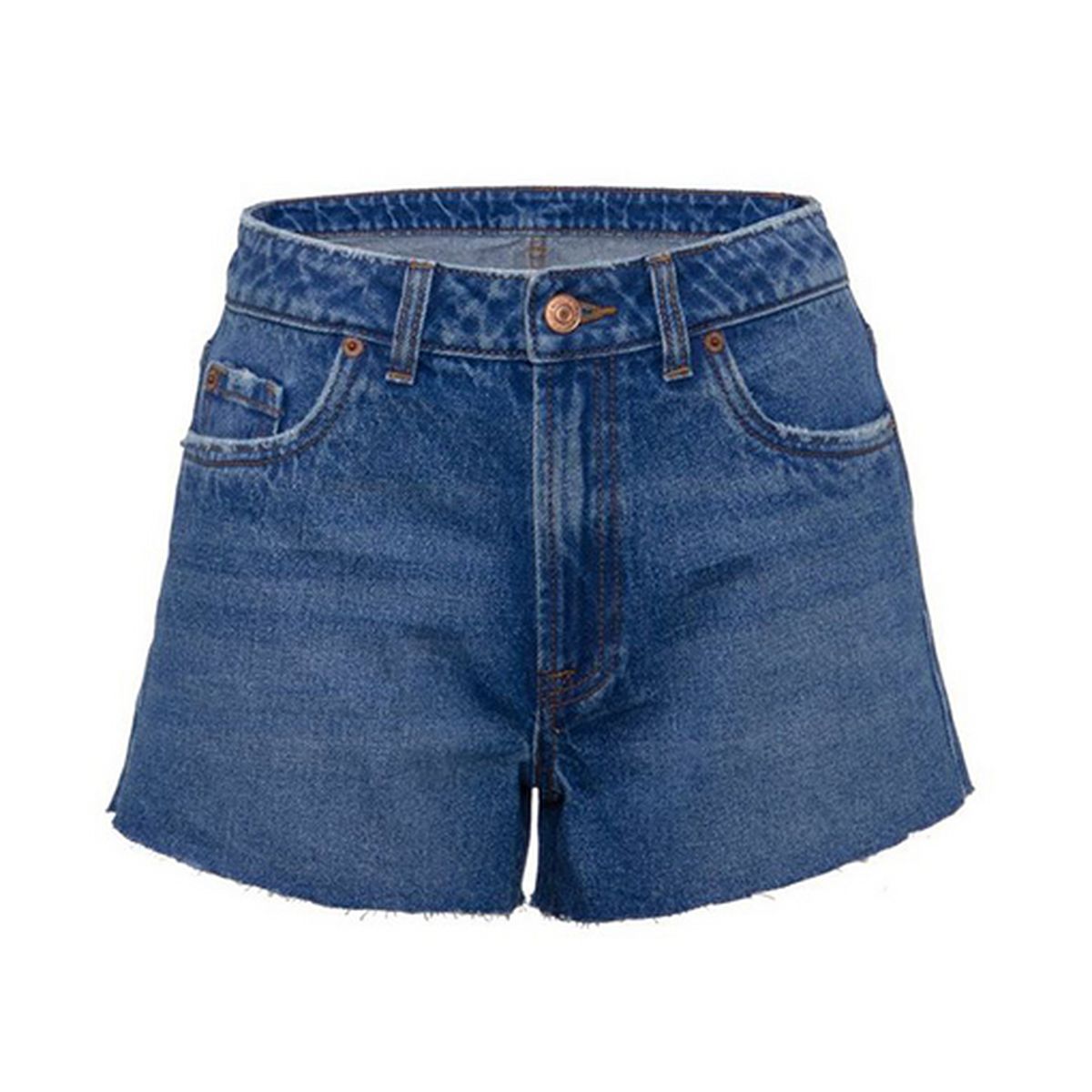 Bright Blue Frayed Denim Shorts
£15.99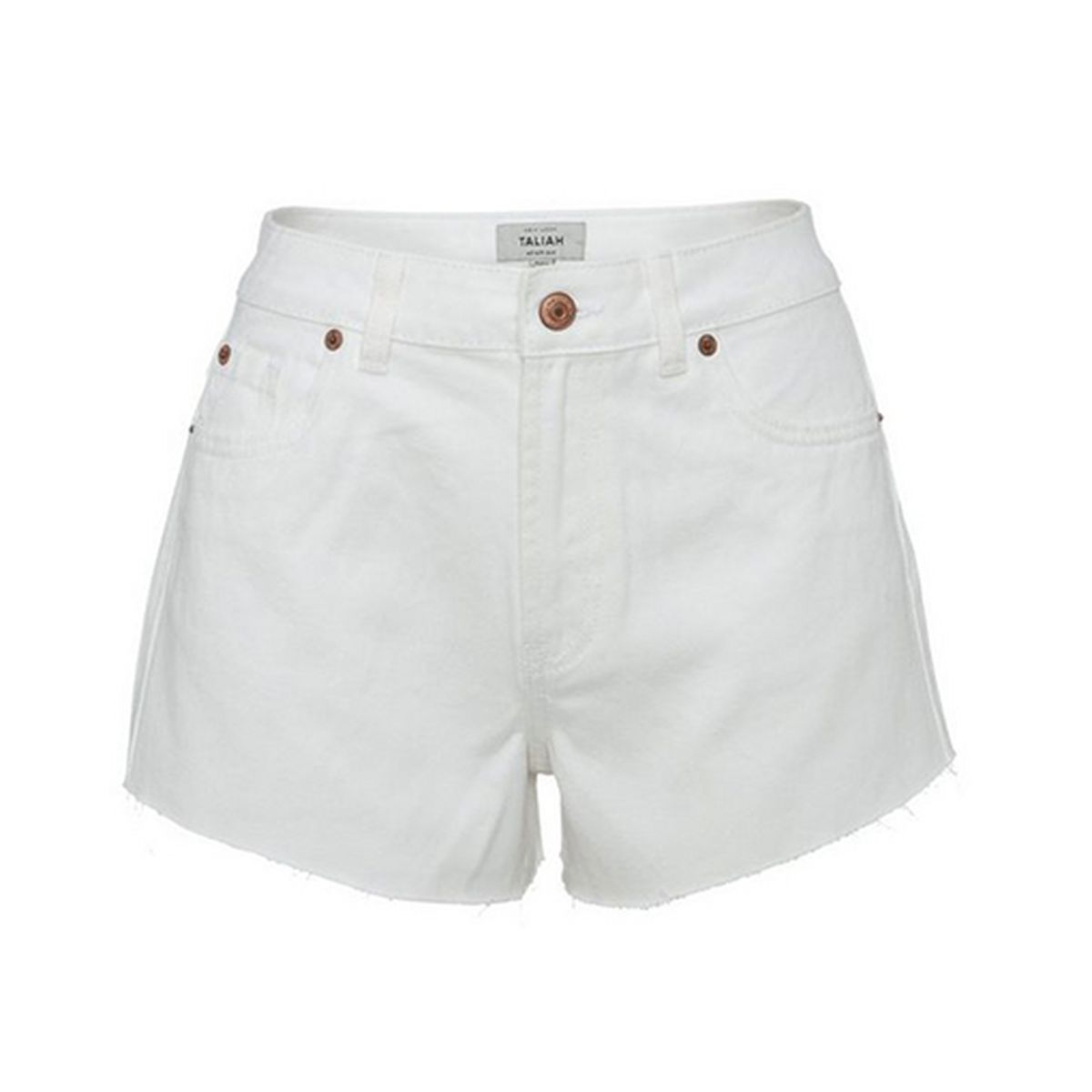 Off White Frayed Denim Shorts
£15.99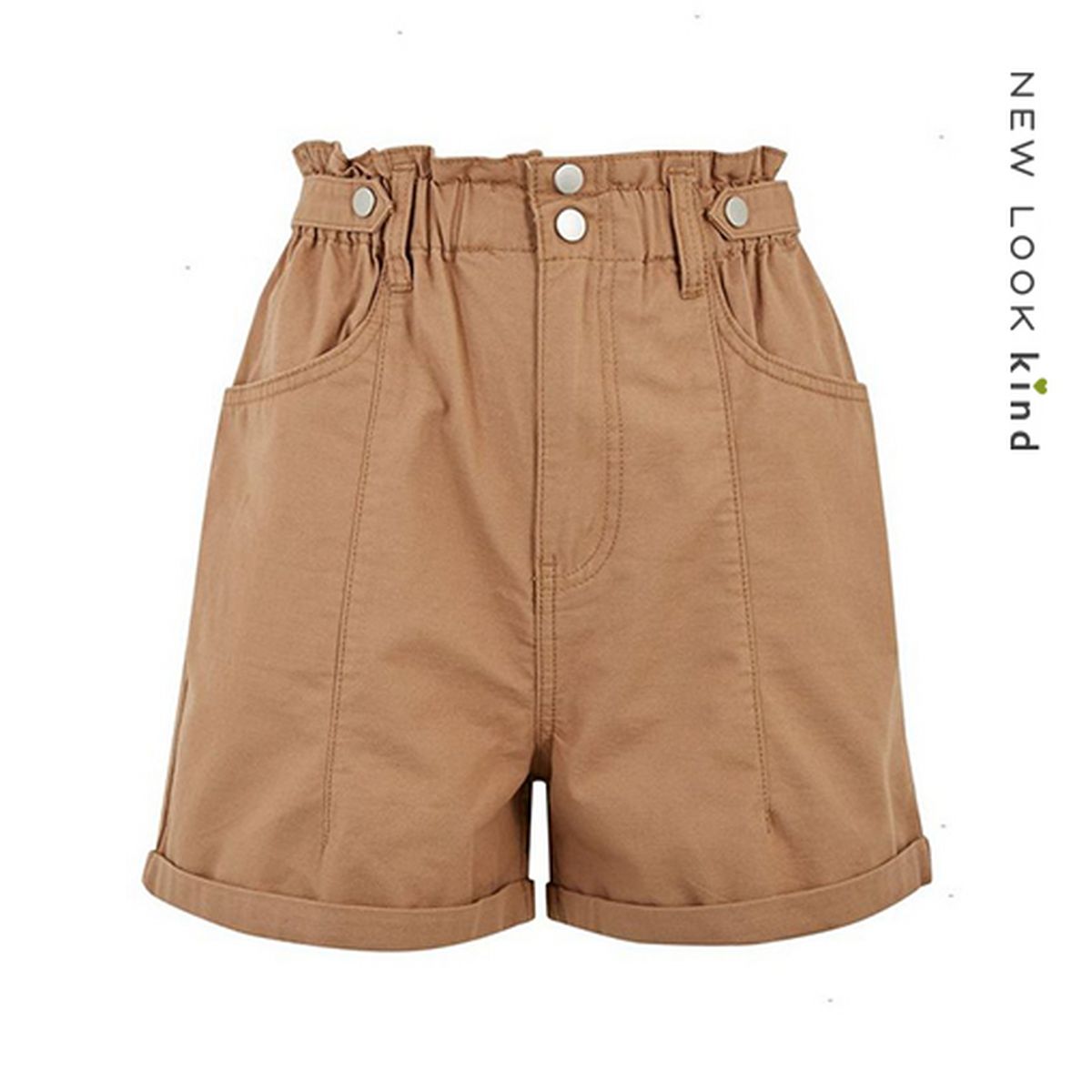 Camel High Waist Denim Shorts
£19.99