Skip to content
Skip to navigation
Who's Wearing What
Why Carrie Bradshaw is The Ultimate Dress-Up-To-Stay-In Girl
by Emma Menteath, Editorial Lead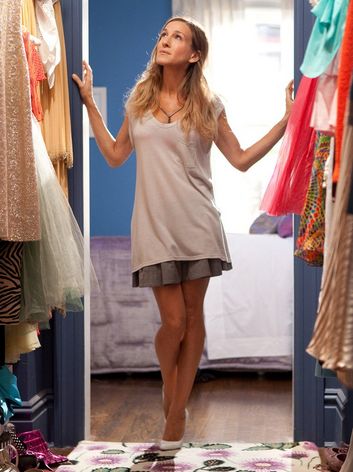 If there's one style tip we can take from Sex and the City's resident freelance writer, Carrie Bradshaw, it's to never compromise your personal style for mundane tasks like walking the dog, popping to your local store or catching up on work emails at home. Carrie Bradshaw serves as an endless source of eccentric, on trend, often mismatching (but in a good way) source of wardrobe inspiration.

While many of us are still enjoying the idea of passing the day in a pair of joggers and an oversized sweatshirt, we should take a few cues from Carrie and 'make it more fashion'.

Here are 6 indoor style moments that make Carrie Bradshaw the ultimate dress-up-to-stay-in girl.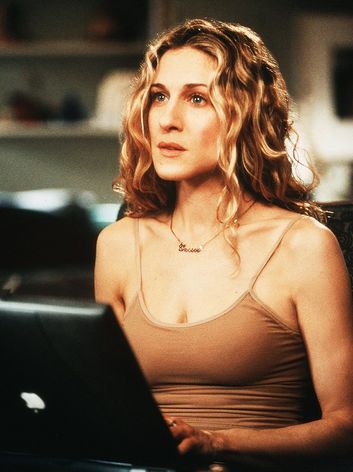 1. Dressing Up to Work From Home
In our current situation, dressing up doesn't have to mean a full head of curls and a sexy bodycon dress – sometimes we just need to sit back and appreciate the fact that we showered, brushed our hair and put on something other than leggings and a sweater. Take inspo from CB and pop on some jeans and a cute spaghetti top for a dressed up WFH day.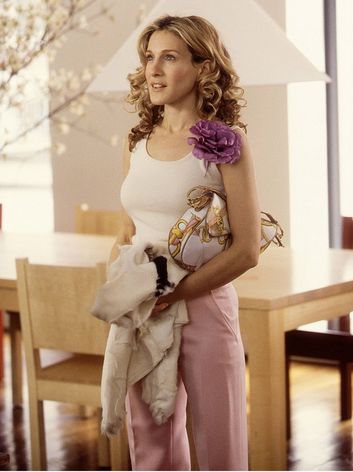 2. Dressing Up for Your Stay At Home Weekend Lunch
Sometimes we don't have a reason to dress up but the act of doing so uplifts us. We suggest putting your best strappy heels forward for something as simple as a stay at home weekend lunch. Now's the time to wear that midi dress you've been dying to spoil yourself with. We say, just do it!
3. Dressing Up to Cook a Meal
It's time to master those family recipes or to finally cook something from your 100s of saved recipes on Pinterest. It's best to avoid an all-white ensemble while cooking - or grey for that matter – so, in classic Carrie style we'll go  for a check shirt, worn knotted at the front like Carrie, and denims.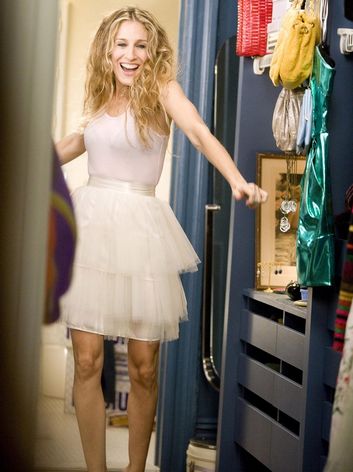 4. Dressing Up to Declutter Your Wardrobe
Now's the perfect time to declutter your wardrobe. Embrace Carrie's way of cleaning out your wardrobe by hosting an online dress up date with your girls – bubbles included. Start by trying on anything you're unsure about keeping or tossing and get your girls to vote. Once our stores are open again, bring in all your unwanted clothes for our Hospice donations. Walk this way.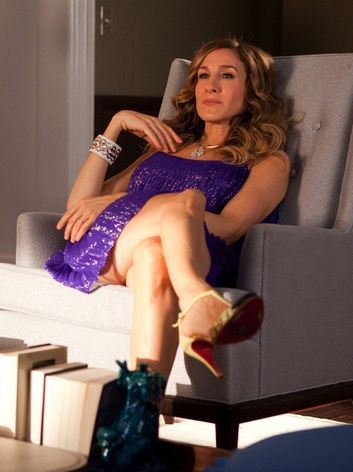 5. Dressing Up for Your Friday Night In
Just because we aren't allowed out doesn't mean we shouldn't make an effort to dress up come Friday night. Plan a night in with your housemates where you all dress up, heels and all, and plan a three-course sit down dinner followed by some chart-topping tunes and living room dance offs. Carrie would be proud.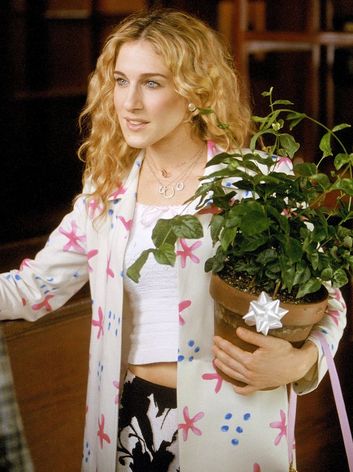 6. Dressing Up to Rearrange the Furniture
If there ever was a time to rearrange your furniture now would be that moment. We can't be the only ones that are bored of staring at our furniture in the same place each and every day. Dress up in your favourite florals to uplift the spirits, put on some tunes and start redesigning your living room into a whole new space. We suggest taking cue from Carrie and sprucing up your apartment with a little greenery. What better way to start the new year?